Finally, The King's Speech Gets The Quality Poster It Deserves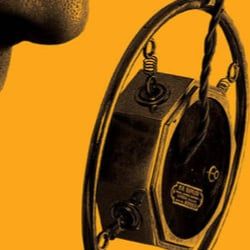 Oh, thank God. After debuting a truly horrendous, Photoshopped mess of a poster for their bona fide Oscar contender The King's Speech, the Weinstein Company has finally gotten it together and released a poster that doesn't make its truly excellent film look like a third-rate Masterpiece Theater snooze. Debuting at Yahoo! Movies, the poster uses little more than good fonts, a glowing critic quote, bright yellow and a close-up of Colin Firth as he approaches the mic to get across pretty much everything about this film. It's classy, it's bold, it feels modern and fresh-- just like the movie itself.
Check out the new poster below, and for comparison's sake, the old poster below that (don't look at it too long, though, or you'll convince yourself the movie is as awful as the poster). My favorite part of it may be the font on the title, with the little crown on the "i" reflecting that iconic wartime Britain "Keep Calm and Carry On" poster-- one issued when The King's Speech's main character, King George VI, first ascended to the throne.
The King's Speech is out now in limited release and expanding wider, so hopefully every theater in the country can get their hands on this new poster and forget the old one ever happened.
Your Daily Blend of Entertainment News
Staff Writer at CinemaBlend