First Independence Day: Resurgence Trailer Could Hit Theaters On Independence Day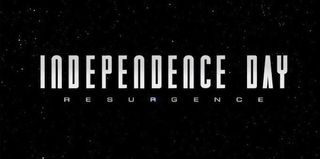 If you've been holding off seeing Terminator: Genisys, you may have an added incentive to make the trek to theaters on July 4. According to some reports, a short first teaser trailer for the newly titled Independence Day: Resurgence will play before Genisys screenings this weekend. Here's the catch, this will happen only on July 4.
AICN was the first to report this, though Slashfilm later contacted an AMC theater and were also told that this is happening. It's pretty early in the going, as Independence Day: Resurgence isn't slated to hit theaters for just under a year, but with the holiday, it's perfect timing to do something. The biggest question is, what exactly will you see? And is it worth a trip to the theater, especially if you've already seen the latest Terminator movie? It's also strange that the studio wouldn't make a bigger deal out of this.
Director Roland Emmerich and company are currently filming in New Mexico. In fact, a bunch of members of the press, including one of our own, were recently invited to the set to check it out and get the lay of the land. That's where, just a short while back, 20th Century Fox revealed the new title, as well as a short introductory video that is little more than the title and a logo. But like I said, they are filming, so it's possible they whipped up a quick little teaser just to create buzz around the long-in-the-works sequel—it will, after all, be 20 years since the 1996 original, so any hype they can muster will only serve them well in the end.
According to AICN the teaser is 35 seconds long, while Slashfilm heard that it's 37 seconds. The title reveal video clocks in at 24 seconds. Some have posited that, should you add one of those green MPAA cards in front of this, the runtime could be about 37 seconds, which has led to the theory that you might only see this video up on screen, which would certainly be a let down, especially if you made a trip specifically for this reason.
What was revealed is literally just the logo for most of the 24 seconds. They could pretty it up some with music and maybe a release date at the end, but still more than half the clip is just the logo sitting perfectly still, in total silence. That's not particularly interesting to anyone. Hopefully, if Fox went through the effort of releasing a teaser into theaters, no matter how brief or for how limited a run, they'll do something more interesting than this. The whole point is to make people want to see your movie, and that isn't going to pique anyone's interest.
Sure, for those people who didn't already know this is happening, which is going to be a sizeable chunk of your casual moviegoers, it'll let them know Independence Day: Resurgence is happening, but that's it. Even if they take this, add some music, and maybe throw in a single clip at the end, say of Jeff Goldblum's David Levinson or one of those new ships, that at least would be something.
Independence Day: Resurgence picks up 20 years after the events of the first film. Using technology recovered from the initial invasion, which turns out was basically just a scouting party, Earth has created a sprawling defense program in anticipation of another visit from our angry space neighbors. But when they show up, nothing can prepare us for their new weapons and unprecedented show of force they bring with them. Like last time, it's up to a few ingenious, brave men and women to save the day and stave off extinction one more time.
Starring Jeff Goldblum, Jessie Usher, Maika Monroe, Liam Hemsworth, Sela Ward, Bill Pullman, Joey King, Charlotte Gainsbourg, William Fichtner, and Many More, Independence Day: Resurgence opens everywhere June 24, 2016.
Your Daily Blend of Entertainment News
Your Daily Blend of Entertainment News
Thank you for signing up to CinemaBlend. You will receive a verification email shortly.
There was a problem. Please refresh the page and try again.