Independence Day 2 Promotional Art, Plot Promises Global Extinction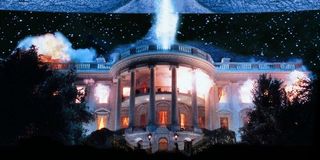 The global devastation in Independence Day means that the impending sequel has a lot to do to match its predecessor's carnage. Even though Will Smith has decided not to return for the follow-up, it's shaping up nicely thanks to nifty casting decisions and the fact that Fox has given Roland Emmerich $200 million to play with. And now the first look at the film's promotional art and synopsis suggests that the German director is going to use all of this money to wreak havoc.
Let's first have a gander at Independence Day 2's synopsis, which has come courtesy of Collider. The brief outline gives us our first hint at how the film will unfold, while also reminding us of the legacy of the original:
Sounds like pretty harrowing stuff. In fact, Independence Day 2's artwork makes the world's plight look even more desperate. The image comes from Coming Soon, and you should click over there to check out their full gallery of other photos from the Licensing Expo too.
While the aliens might have a humungous ship that's probably the size of two continents and has the ability to attack huge portions of the globe in one fell swoop courtesy of their advanced weapons, the planet Earth has Jeff Goldblum. So I'm not worried. Alongside Goldblum's David Levinson, who saved the globe in 1996's Independence Day with Will Smith's Captain Steven Hillier, are Bill Pullman's former President Thomas J. Whtimore, Liam Hemsworth as Jake Morrison, and Jessie Usher as Dylan Dubrow-Hiller. Sela Ward, Charlotte Gainsbourg, Vivica A. Fox, Judd Hirsh, Brent Spiner, and William Fichtner are also along for the ride.
The above image might not actually be an official poster from Fox's marketing team for Independence Day 2 since it has only been made privy to those at the Licensing Expo. Heck, it's even likely that it won't ever see the light of day on the wall in your local multiplex. However, it certainly gives us a clear indication of how Independence Day 2 plans to up the ante from its original, since that was promoted with just The White House being destroyed by alien technology.
While news of Independence Day 2 was originally sniggered at, it looks as though the alien invasion blockbuster is actually shaping up rather nicely. Independence Day 2 will finally be with us on June 24, 2016, which is clearly 10 days too early.
Your Daily Blend of Entertainment News
Thank you for signing up to CinemaBlend. You will receive a verification email shortly.
There was a problem. Please refresh the page and try again.