First Look At Liam Neeson Breaking Necks In Taken 2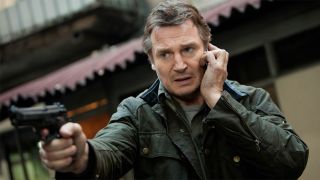 (Image credit: 20th Century Fox)
Since he was reborn as an action star in 2009's Taken, nothing Liam Neeson has done has quite lived up to the pulpy insanity of that first film-- Unknown felt like a sillier retread of the same territory, while The Grey was far more contemplative and interesting than ass-kicking. Happily, Bryan Mills will be back to destroy everybody this fall in Taken 2, which puts a twist on the original formula for the first film in having Neeson's character kidnapped this time, by the same Albanian thugs who took his daughter (Maggie Grace) the first time around. Though from the look of the photos that debuted at Entertainment Weekly, he's not exactly spending the movie locked in a cell and waiting for rescue. Here's two of them below, and you can see the full collection over there.
They also include an interview with Neeson, who mentions they're going in for reshoots shortly, and that Famke Janssen, who plays his ex-wife, will have a much bigger role in the action this time around-- she and her daughter both pay a visit to Bryan while he's on a job in Istanbul, and of course, shit gets real from there. Neeson doesn't reveal much about the plot, since of course there's not that much to reveal in a movie that's about a guy and his daughter stomping their way across Europe, but he does get into detail a bit about how his character has changed:
And of course, he still has a highly specialized set of skills.
For more on Taken 2, check out the EW article, or wait patiently until it comes to theaters on October 5.
Your Daily Blend of Entertainment News
Staff Writer at CinemaBlend