Forrest Gump Fan Attempting A Coast-To-Coast Jog For Charity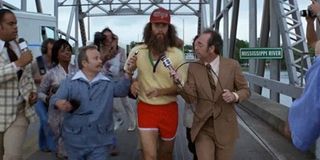 Forrest Gump running coast-to-coast for three years is widely regarded as one of the most powerful and emotional scenes in one of the most beloved films of the 1990s. There's just something lovingly cathartic about it. But of course no one in their right mind would ever consider such a feat. It's exhausting just to think about. Step forward the wonderfully named Barclay Oudersluys, who plans on running the 3,200 miles between California and Maine all in the name of charity.
Oudersluys has made the rather wise decision not to run for an entire three years like Tom Hanks' titular character in Forrest Gump. However, the recent University Of Michigan graduate is looking for the help and kindness of strangers from across the globe as he tries to fight poverty by raising money for The Hall Steps Foundation.
You can click over to Barclay Oudersluys' fundraising page to donate some money for his worthy cause. Oudersluys explained that in order for him to complete his journey in the designated 100 days that he's given himself he'll have to run about 50 kilometres per day. So far he has raised $3,415 of his $10,000 target, however we can expect that amount to rise exponentially as more and more people learn about his worthwhile effort. Oudersluys started his epic 15-state journey on May 9 in San Francisco, and the night before he set off he found the perfect photo opportunity:
You can also head over to Project Gump's Twitter account to keep up-to date with Ouderluys' activity, which most recently revealed that he'd headed into Tuba City, Arizona, and confirmed that that he'd crossed the 500 mile mark. Along the way he will hopefully be able to recreate some of the whimsical scenes and sequences that helped to make Forrest Gump's running sequence so appealing. In fact, let's relive it in all of its glory below.
God that sequence just makes the entire world seem like a wholly uplifting and joyful place. Now of course the real scoop would be if Tom Hanks decided to join Barclay Oudersluy for a leg of the journey. Until then though, I feel Mr. Oudersluy deserves a hearty, "Run, Barclay, Run," from each and every one of us.
Your Daily Blend of Entertainment News
Your Daily Blend of Entertainment News
Thank you for signing up to CinemaBlend. You will receive a verification email shortly.
There was a problem. Please refresh the page and try again.