Fox's Frankenstein Prequel Has A New Title And Synopsis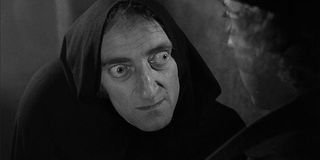 Frankenstein is getting a facelift. Fox's upcoming Frankenstein movie always sounded like it was going to differ heavily from the source material, with James McAvoy as a passionate and paranoid Victory Frankenstein and Daniel Radcliffe as Igor. But we didn't know exactly how different this Paul McGuigan-directed version would be. Are you prepared for a full-on origin story?
Fox has announced that the new film will be titled Victor Frankenstein, telling the story of the haunted doctor through the eyes of his young assistant Igor. A synopsis has been released, and you can read it below.
Presumably, this is basically Medical School Frankenstein, with only lip service paid to the fact that the doctor will end up creating a monstrosity. While this is a departure from what we know about the classic tale, it is more in line with the Mary Shelly book, which detailed the moral, ethical and philosophical struggles of the doctor, the monster being less of a character and more of a force of nature. And we could always use a reminder that "Frankenstein" is not the monster's name at all, it's the doctor's name. So when, or if, the monster lurks in this film, fans should remember to call him "Frankenstein's monster" and not Frankenstein. It's only polite.
Of course there will be some reference to the original films, as Igor does not exist in the books. Daniel Radcliffe is a younger and decidedly more handsome Igor than we're used to, but it's an interesting idea to make him more of an underpaid intern more than a slavishly devoted hunchback. This is probably the worst job ever, no? The interplay between McAvoy and Radcliffe should be a hoot, McAvoy's intensity versus Radcliffe's more mild, intellectual demeanor.
They've also got a solid director on board in McGuigan. The helmer drew attention with Gangster No. 1 back in 2000, a minor cockney masterpiece. Since then he's moved between television and film, and while much of his work is undistinguished, it always has a great look and sharpness both to the images and the material. His 2009 superpowers-drama Push is basically an X-Men ripoff, but actually develops its own identity as a grungy futuristic suspense thriller. McGuigan has been waiting for his crack at the big time, and this might be it.
Victor Frankenstein haunts theaters October 2nd, 2015.
Your Daily Blend of Entertainment News