James McAvoy Is The Doctor To Daniel Radcliffe's Igor In New Frankenstein Movie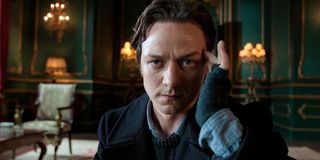 You know how there are all these rumors about how Tom Cruise hires co-stars who are willing to slouch or who are also vertically challenged so he doesn't look so short onscreen? Those are the kind of crazy lengths you have to go to when you're a very small A-lister, but James McAvoy and Daniel Radcliffe have come up on a much easier solution-- find short actors you like, team up, look totally tall in comparison to each other onscreen. Deadline reports that McAvoy, who is 5'7, has been cast opposite Radcliffe, who is 5'5, in a new adaptation of Frankenstein. Yes, another one. Radcliffe will play the assistant Igor-- no word on whether it comes with a hunchback this time-- and McAvoy will be the titular doctor.
Radcliffe first signed up for the project back in February, and casting for the Frankenstein role started last month, with up-and-comers like Toby Kebbell and Jack Huston eyed for the part. McAvoy is considerably more famous, and already has another very successful franchise at the same studio with X-Men: First Class and the upcoming Days of Future Past. It's surprising when a studio spends some time eyeing up-and-comers before deciding to stick with a more established actor, especially one who's likely far more expensive, but perhaps the appeal of teaming up Professor X and Harry Potter was too much to resist.
And they'll probably need that appeal to set themselves apart, since it seems like every day comes casting or a poster or a Comic-Con panel for a new take on Mary Shelley's classic monster story. The Aaron Eckhart-starring I, Frankenstein recently made a modest splash at Comic-Con, but it was easily overshadowed by studio sibling The Hunger Games: Catching Fire; I Frankenstein comes to theaters on January 24 next year, and unlike most classic Frankenstein stories, is set in modern-day. Then there's Frankenstein's Army, now playing on VOD and wondering what would happen if Russian soldiers, defeating the Nazis at the end of World War II, had come across… a murderous robot! And at some point Guillermo del Toro is still hoping to make his own Frankenstein adaptation, and he's hinted that he wants Benedict Cumberbatch to reprise the role he played opposite Jonny Lee Miller onstage, directed by Danny Boyle. In that stage version the two actors switched roles each night, and if del Toro could find a way to recreate that onscreen… well, that's something we'd want to see.
In the meantime, though, we've got the McAvoy-Radcliffe version to focus on, with Push and Lucky Number Slevin director Paul McGuigan helping from a script by Chronicle's Max Landis (as it turns out, McGuigan has directed four episodes of BBC's Sherlock, which proves that everything from Britain really does tie together). No word on when production will begin, or who might play Frankenstein's monster… but, hey, McGuigan has Cumberbatch's phone number, and he is familiar with the part… just saying...
Your Daily Blend of Entertainment News
Staff Writer at CinemaBlend