Frank Miller And Zack Snyder Meeting About Batman-Superman Movie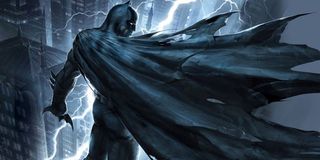 Frank Miller and Zack Snyder go way back. Snyder's adaptation of Miller's graphic novel 300 was his giant breakout hit, and Snyder adapted Miller's Xerxes for the upcoming sequel 300: Rise of an Empire. So when Snyder took the stage at San Diego Comic-Con two weeks ago to announce his big Superman-Batman team-up, it shouldn't be a surprise that he accompanied it with a quote from Miller's graphic novel The Dark Knight Returns. And yet, Miller was surprised anyway.
According to The Independent, who spoke to an anonymous source "close to Miller," the author had no idea that the Superman-Batman announcement was coming, and especially that Snyder would enlist actor Harry Lennix to read the quote from The Dark Knight Returns. Snyder has been adamant that he's not specifically adapting Returns, just using it for inspiration, but he may hew closer to Miller's work than you think; The Independent also says that Snyder and Miller will be meeting in the coming days, "to go over the plans for the Superman film."
That word "plans" is vague to the point of maddening, and could suggest literally anything from Snyder saying "Yeah dude, it's exciting, come see the movie in 2015" to asking Miller to collaborate with him on the screenplay. My guess is it's somewhere in the middle, Snyder reaching out to an old collaborator to run some ideas by him, talk about the characters that Miller knows fairly well and give his buddy an insider glimpse at an exciting new movie. The world of DC Comics films is undeniably dark, following in the footsteps of The Dark Knight Rises and Man of Steel, but it's hard to imagine much of Miller's R-rated style translating to a film intended to be as gigantic as Batman vs. Superman, or Superman vs. Batman, or whatever they end up calling it.
We're already closely following the tiny amounts of knowledge we've got on the film, which so far has confirmed Snyder to direct, David S. Goyer to write the screenplay, Christopher Nolan and Emma Thomas to executive produce… and that's about it. You can hold out hope that Miller will be added to that list of collaborators, but I'd say 300: Rise of an Empire is probably your next and best chance to see Miller's work on screen.
Staff Writer at CinemaBlend
Your Daily Blend of Entertainment News
Thank you for signing up to CinemaBlend. You will receive a verification email shortly.
There was a problem. Please refresh the page and try again.