Fright Night Gets A December Blu-Ray Release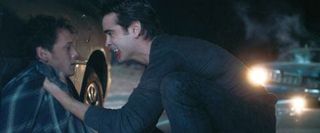 There's been a weird trend of well-reviewed directors deciding out of nowhere to do a random remake. Craig Brewer's Footloose opened to positive reviews today. Likewise, Lars and the Real Girl director Craig Gillespie recently released a new version of Fright Night in 2 and 3D. If you missed it in theaters, you'll be able to catch the vampire flick, starring Colin Farrell and Anton Yelchin, when it hits 3D Blu-Ray, Blu-Ray, and DVD on December 13th.
Fright Night's inability to impress audiences may be an indication that the vampire trend is truly dead, excepting Twilight. Which is too bad, because Farrell is tall, dark, and awesome. There's a scene where Farrell's Jerry needs an invitation from Yelchin's Charley Brewster in order to enter Charley's house that is in itself worth the $30.99 Blu-Ray price. I'm not kidding; he's really that good. It also helps that Toni Collette and Christopher Mintz-Plasse have small roles. [And former Doctor Who David Tennant is awesome as a Kriss Angel-style Vegas magician. - Ed.]
Now, to sell you on the extras. Both the 3D and 2D combo packs will come with the same bonus features. Craig Gillespie went out of his way to give a brief interview about each of the five deleted scenes. Featurettes will include "Peter Vincent: Swim Inside My Mind," "How to Make a Funny Vampire Movie Guide," and "Squid Man." A Kid Cudi music video, gag reel, and trivia will round out the extras. DVD copies will come with "Squid Man," Cudi, the gags, and not much else. If you don't buy Fright Night, please at least see it. If not for me, then for Farrell.
Your Daily Blend of Entertainment News
Thank you for signing up to CinemaBlend. You will receive a verification email shortly.
There was a problem. Please refresh the page and try again.