Galaxy Quest's Dean Parisot Looking To Direct Red 2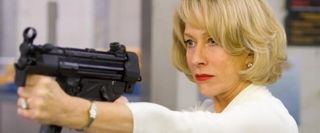 It's been 13 years since Dean Parisot directed the now-classic comedy Galaxy Quest, and he's yet to turn in a feature film that matched it-- he made the underwhelming 2005 comedy Fun With Dick and Jane, and has done work on a number of hit TV shows, including The Good Wife and Modern Family. But Parisot may be gearing up to make a return to features in a big way. According to Variety, he's in final negotiations to direct Red 2, a sequel to the 2010 surprise hit, an adaptation of a comic book about geriatric spies being put back into action.
Right now Red 2 is set for an August 2013 release, which seems like a tight fit, especially given some timing concerns. As Variety points out, Bruce Willis is the only returning cast member with a deal in place, and he's got a busy schedule ahead of him, including shooting Die Hard 5 and promotion on three huge upcoming movies-- G.I. Joe: Retaliation, The Expendables 2, and Rian Johnson's time travel thriller Looper. The rest of the original Red cast-- including Helen Mirrean, Morgan Freeman and John Malkovich-- don't have deals in place, but it's hard to imagine they'd be pushing forward with a director without at least some of the big names back on board.
What's interesting is that they haven't looped back around to Robert Schwentke, who directed the first movie on a $60 million budget to an eventual worldwide gross of almost $200 million. When they first started movement on the sequel Schwentke was busy shooting R.I.P.D. with Ryan Reynolds and Jeff Bridges, but that movie seems to be wrapped up, or at least would be by the time Red 2 gets going. Parisot seems like a pretty apt replacement, but it's always a shame when someone makes one film into a hit, but gets booted or shoved aside when it comes time for the sequel.
Your Daily Blend of Entertainment News
Staff Writer at CinemaBlend
Your Daily Blend of Entertainment News
Thank you for signing up to CinemaBlend. You will receive a verification email shortly.
There was a problem. Please refresh the page and try again.