Gary Oldman And Tom Hardy Teaming Up Again For Child 44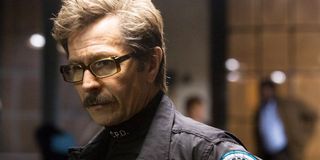 Will Ferrell and John C. Reilly. Katharine Hepburn and Spencer Tracy. Jennifer Lawrence and Bradley Cooper. When we think of on-screen pairs that can't stop working together, we generally think of people who star in films together, whose reunion is the kind of thing that the studio can avidly promote. But now that we clearly have to add Gary Oldman and Tom Hardy to the list, we're really, really unsure how they should fit in.
After working together for the first time in Tinker, Tailor, Soldier, Spy and then reuniting soon after with The Dark Knight Rises, Oldman and Hardy are making it a hat trick with Child 44, which THR reports has added Oldman to the cast. Hardy has been set to star since late January, playing a Soviet military police officer charged with investigating a series of child murders, and accidentally winding up in the crosshairs of his own government. Oldman, in what THR speculates will be a "meaty role," is the head of police investigating him-- sounds a whole lot like the kind of bad guy roles that made him famous, and not gentle Commissioner Gordon.
With Noomi Rapace and Joel Kinnaman also on board Child 44 is setting up a strong cast, but Oldman is clearly the elder statesman of the bunch. And even though Oldman's tenure as Commissioner Gordon is (probably) finished, he's got a ton of other blockbuster roles lined up, working with Kinnaman in the Robocop remake as well as Dawn of the Planet of the Apes. If you felt like you missed seeing him on screen after The Dark Knight Rises, you won't feel that way for long.
Staff Writer at CinemaBlend
Your Daily Blend of Entertainment News
Thank you for signing up to CinemaBlend. You will receive a verification email shortly.
There was a problem. Please refresh the page and try again.