Geena Davis To Return For Beetlejuice Sequel? Here's What She Says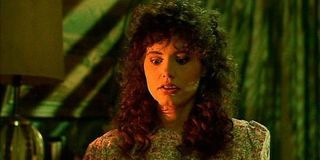 It's been almost 30 years since we first got a taste of that bizarrely wonderful Beetlejuice. And one taste wasn't nearly enough. We've been wanting more for decades, and talks of a sequel have been happening seemingly forever. It wasn't until a couple months ago that we finally got a glimpse of what the future could hold, when Winona Ryder pretty much confirmed its happenings. So of course, Geena Davis was asked whether or not she'd return to reprise her role as the lovable ghost Barbara Maitland, to which she exclaimed she'd "love to" but there may be a problem
Geena Davis has held a number of iconic roles throughout her career, and while Barbara Maitland certainly is no Thelma, the character is still an beloved aspect of the original Beetlejuice, and one we'd want to see again. So when ETonline asked the Oscar-winning actress whether she would be reprising her role, Davis answered:
Clearly Geena Davis wants to be involved with the sequel, and she's still got the sense of humor to help pull it off. We already know that both the leading lady (Ryder) and the titular character (Michael Keaton) are game. Now let's just say "Beetlejuice 2" a few more times, just to be sure it's really happening
We've got bits and pieces of what may be in store if the sequel ever does come around to fruition. Screenwriter Seth Grahame-Smith confirmed that the film would be set in present day, and would indeed take the Michael Keaton-suggested approach of "less is more" with the titular character. Tim Burton has teased that the film has started to progress, and has shared his excitement for reuniting with Michael Keaton once again.
We still have not made any progress on a solid release date though. It sounds like Geena Davis still hasn't even been given any details on her own involvement quite yet, so clearly filming won't be happening any time soon. Graham Smith has previously claimed that the filming could get going as early as the end of this year, but with Burton's commitment to Miss Peregrine's Home For Peculiar Children set to release on March 4, 2016, he may be holding back the chatter until his schedule clears up.
Your Daily Blend of Entertainment News
Thank you for signing up to CinemaBlend. You will receive a verification email shortly.
There was a problem. Please refresh the page and try again.