Happy Madison Options Heroes For My Son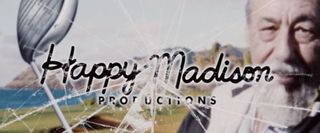 Adam Sandler's production company Happy Madison is best-known for producing goofy comedies about manchildren run amok—like the upcoming That's My Boy. So their latest acquisition, Heroes For My Son is raising eyebrows. The non-fiction book by multi-media writer Brad Meltzer is a collection of brief histories about people he hoped would inspire his first-born son. It doesn't actually contain a narrative thread, so Meltzer was as surprised as we are at Happy Madison's interest, telling EW
Scribe David Hollander (The Guardian, The Cleaner) has been tasked with translating the warm-hearted aspirations of the book into a narrative feature. Meltzer, who is currently working on a corresponding, inspirational clothing line for kids, went on to share, "They found an incredible story in that. But I can't ruin it." The author/host of the TV doc series Decoded did drops some hints however, noting that the movie version of Heroes For My Son will be more a drama than the comedy we'd expect from Happy Madison. And there is a possibility Sandler could star, a casting choice Meltzer favors, explaining, "I'm still the guy who likes seeing Adam Sandler take on the serious role."
As a drama, Heroes For My Son would be a change of pace for the production company, yet the story we can glean from these details seems to fit some of Sandler's favorite themes. If he's to star, we can presume there is a 40-something schlub at the center of the story, and more than likely a father struggling to give the kind of parental guidance he feels his kid deserves. This is an old chestnut that Sandler's explored several times before, in Big Daddy, Click, and Grown Ups to name a few. So really, it's not so far afield of Happy Madison's comfort zone.
While they work on development, Metlzer's got an adaptation project of his own brewing based on the suspicious story of The Price is Right Showcase Showdown winner, Terry Kniess, who guessed the price of his extravagant prize package exactly, a unique feat that hasn't occurred in 38 years. Meltzer is developing the screenplay with Horrible Bosses' helmer Seth Gordon, positing that the prize winner wasn't a cheat or remarkably lucky, but rather a man who, "sees patterns in everything." For the record, Kniess insists it was a combination of dedicated Price is Right watching—he remembered the prices of some recycled prizes—and dumb luck.
Staff writer at CinemaBlend.
Your Daily Blend of Entertainment News
Thank you for signing up to CinemaBlend. You will receive a verification email shortly.
There was a problem. Please refresh the page and try again.