Helen Fielding Reveals Huge Shocker About Bridget Jones Book 3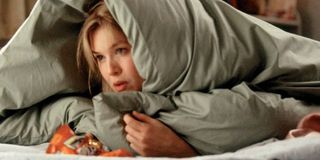 Over the course of countless newspaper columns, two books and two cheeky romantic comedies, the chubby, clumsy and deeply daffy Bridget Jones has won the hearts of audiences worldwide. But Helen Fielding, the author of the Pride and Prejudice-inspired Bridget Jones's Diary and Bridget Jones: The Edge of Reason has decided that her leading lady doesn't get the happy ending with broody barrister Mark Darcy we'd all hoped for. Instead, this plucky protagonist is left a widowed mother of two at age 51. It's time for a good long cry because Mark Darcy is dead.
The U.K. newspaper The Sunday Times reports that Bridget Jones: Mad About The Boy, the long-awaited third diary of Fielding's beloved Bridget, begins with the heartbreaking reveal that Darcy died in a car accident five years prior to the book's beginning. Forget the hopeful happily ever after the end of book two promised, leaving us with Bridget giddily engaged to the man she adores and planning on babies. He's dead, and Bridget is left to raise their children while "rediscovering romance with a toy boy while obsessing about her Twitter followers as well as her weight and wrinkles." Bridget Jones has gone from wanton sex goddess to cougar. To quote Bridget, "Fuuuuuuuuuuuuuuuck!"
If you're like me, this has already convinced you to ignore Bridget Jones: Mad About The Boy and to actively forget there is any form of this story where Darcy doesn't live to a ripe old age with our hapless heroine. But this terrible news has got me wondering what this could mean for the third Bridget Jones movie. Reports for a third installment first surfaced in 2009, back before talk of a third book even existed. At the time, it looked like Bridget Jones 3 would focus on Bridget's quest to have a baby. The last update we got on the project came in February of 2012, when the production schedule was put on hold over script issues. While the plotline for Bridget Jones 3 is still unconfirmed, there's several reasons to believe it won't follow Fielding's depressing as fuuuuuuuuuuuck lead.
First off, there's the rumored baby-having plot line, which seems to be supported by the IMDB page for Bridget Jones's Baby. But take that title with a grain of salt as IMDB isn't the most reliable source on the web. Still, it seems very unlikely Bridget's third movie will follow her third book. For one thing, the 44-year-old Renée Zellweger in no way looks 51. Plus, all reports about Bridget Jones 3 promoted the reuniting of Zellweger with Colin Firth (as Darcy) and Hugh Grant (as the cad Daniel Cleaver) and have breathed not a word about a new love interest, toy boy or otherwise. So, deep breaths Jones fans, it looks highly unlikely Bridget's third movie will kill her one and only. Of course, there's also the possibility that Bridget Jones 3 may not happen at all.
After its last delay, Working Title Films insisted the movie would shoot by the end of 2012, which obviously didn't happen. Then just last spring Firth was asked about the movie's chance of rising again, and he told The Chicago Sun Times:
This poll is no longer available.
Your Daily Blend of Entertainment News
Staff writer at CinemaBlend.