Hellboy Is Joined By A Family Guy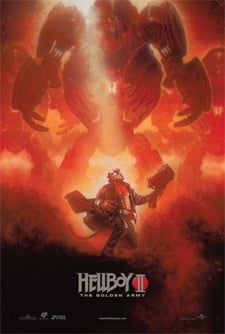 Typically, when you hear the name Seth MacFarlane, you think about Peter Griffin, his dog Brian, or the baby that's trying to take over the world, Stewie. Or maybe you think about Stan Smith, the super-patriotic CIA Agent. What you usually don't think about is Hellboy and the Bureau for Paranormal Research and Defense (BRPD). That's right where you're about to find him, however, with this summer's Hellboy II: The Golden Army.
Director Guillermo del Toro announced via the Hellboy message boards that MacFarlane had taken over the role of Johann Kraus, an ectoplasmic agent of the BRPD who joins the agency for the sequel. The role was previously going to be voiced by Thomas Kretschmann, but apparently the tone of the former vocal actor's voice was too close to the digital effects being used to process the sound of Kraus, resulting in a monotone performance. MacFarlane's voice works a lot better, and del Toro sounds excited to have the Family Guy creator doing the voice:
"Seth is my decision. 100% as I find his versatility amazing. He brings life and excitment to the character. He's not doing Peter- this guy is one of the most talented and versatile voice actor I've ever met and his Johann made a massive difference in my heart. I thank heavens for his availability and showmasnhip. If we could only be judged by what we've done no one would wonder out of his/her range and expand."
Meanwhile, a lot of new Hellboy stuff came to light during the recent New York Comic-Con, including a limited Drew Struzan poster (on right, larger version available at CHUD), some exclusive Comic-Con footage, and a new viral site for Hellboy II (www.hetfet.org), complete with a new game for folks to play. (Coming Soon has even unlocked a code for the game: 7, 11, 8). Clearly The Golden Army is on its way, and it's time to get excited.
Your Daily Blend of Entertainment News