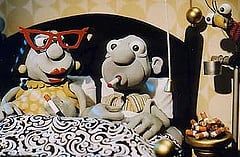 Philip Seymour Hoffman, aka The Most Legit Actor In Hollywood, is officially a part of the movie Mary and Max. Hoffman is set to voice the lead role of Max in this claymation feature from the makers of the Oscar winning short "Harvie Krumpet."
The movie will follow a pen pal friendship between the two title characters. Max is an obese Jewish-American man with Asperger's Syndrome and Mary is an overweight 8 year old in Melbourne, Australia. Adam Elliot will write and direct while Melanie Coombs produces. Although this is the first feature film for the team, they also collaborated on the short "Harvie Krumpet," which won in its category at the 2004 Oscars.
Icon Entertainment International CEO, Mark Gooder is apparently super excited about nabbing "The Most Legit Actor In Hollywood," and squeals "That one of the most 'in demand' actors in the world would agree to voice an independent Australian animation speaks volumes for the creative integrity of this project," reports Variety. Like I said, Hoffman is the stamp of legitimacy.
Toni Collette will voice Mary and Eric Bana is set to contribute his pipes as well.
Your Daily Blend of Entertainment News
Thank you for signing up to CinemaBlend. You will receive a verification email shortly.
There was a problem. Please refresh the page and try again.