Holiday Weekend Box Office: Mama and Obama Lead MLK Jr. Weekend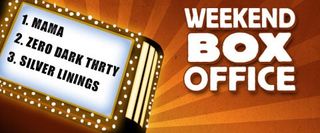 Martin Luther King Jr. weekend brought with it the first Schwarzenegger headlined movie in almost a decade, something of a box office coup for the award season's darling Silver Linings Playbook, and somewhere in there President Obama officially started his second term. But the most interesting bit of news? The number one spot went to a PG-13 horror movie.
Who says successful scary requires the kinds of gore and guts than earn movies an R rating? Mama, an entry from first time feature filmmaker Andres Muschetti, backed by executive producer Guillermo del Toro, dominated the box office, banking $33 million over the four day holiday weekend and turning a tidy profit over its economical $15 million budget.
After a minor expansion that was wide enough to help it reach tenth place last weekend, Silver Linings Playbook further widened to over 2,500 screens and climbed to third place. That made for a better holiday weekend than the other newcomers suffered.
Crime flick Broken City, the latest offering from Mark Wahlberg and Russell Crowe, settled for a slow sixth place with just $9 million. Disappointing as that might have been, it was great news compared to Schwarzenegger's new movie The Last Stand which only took in $7 million over the four day weekend, settling for an embarrassing tenth place.
For the full four day holiday weekend break down, check out the chart below:
1.

Mama *
$33,035,000
Total: $33,035,000
LW: N WR: 1
THTRS: 2,647
2.

Zero Dark Thirty
$18,700,000
Total: $57,045,000
LW: 1 WR: 5
THTRS: 2,946
3.

Silver Linings Playbook
$13,019,000
Total: $56,978,000
LW: 10 WR: 10
THTRS: 2,523
4.

Gangster Squad
$10,305,000
Total: $33,415,000
LW: 3 WR: 2
THTRS: 3,103
5.

A Haunted House
$9,700,000
Total: $31,300,000
LW: 2 WR: 2
THTRS: 2,160
6.

Broken City*
$9,500,000
Total: $9,500,000
LW: N WR: 1
THTRS: 2,620
7.

Les Miserables (2012)
$9,246,000
Total: $131,804,000
LW: 5 WR: 4
THTRS: 2,579
8.

Django Unchained
$9,235,000
Total: $139,354,000
LW: 4 WR: 4
THTRS: 2,516
9.

The Hobbit: An Unexpected Journey
$7,715,000
Total: $288,705,000
LW: 6 WR: 6
THTRS: 2,323
10.

The Last Stand *
$7,190,000
Total: $7,190,000
LW: N WR: 1
THTRS: 2,913
Your Daily Blend of Entertainment News
Thank you for signing up to CinemaBlend. You will receive a verification email shortly.
There was a problem. Please refresh the page and try again.