The 10 Best Jennifer Lawrence Movies, Ranked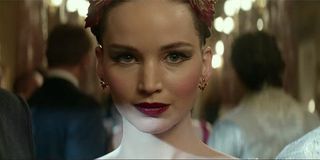 Ten years ago, Jennifer Lawrence was a supporting actress on the short-lived TBS sitcom The Bill Engvall Show. Nowadays, however, the mega-famous celebrity is an Academy Award-winning superstar, who has shown her talents in blockbusters and prestige flicks alike. It's a remarkable journey that has found the talented superstar headlining no shortage of commendable, noteworthy films throughout a varied and exceptional cinematic career. It's one that will continue with her latest work in Dark Phoenix, which will be making its way into theaters and IMAX screens this weekend.
While Jennifer Lawrence has only been seen in a handful of movies these past few years, it's remarkable how many of these films have gone to to be acclaimed, distinctive achievements or pop culture phenomenons. Sometimes both! Today, I'm ranking my personal favorite Jennifer Lawrence movies, placing them in order of personal preference. There are a few that missed the cut, like Passengers and Red Sparrow, for instance. And no doubt a few of these picks might be a bit different than yours, depending on how you feel about certain titles. Nevertheless, here's the official ranking!
Joy
In their third collaboration, Joy, David O. Russell and Jennifer Lawrence brought a loose retelling of the life story of Joy Mangano, a self-made woman who went from humble beginnings to a millionaire empire, to the big screen. The results were mixed, notably compared to their other collaborations together. But while the film is flawed, to say the least, it does have the distinction of boosting yet another exceptional Jennifer Lawrence performance.
After playing the second lead in Silver Linings Playbook and a memorable supporting character in American Hustle, Jennifer Lawrence is finally (and rightfully) given the center stage in this David O. Russell joint, and she definitely makes the most of it. Filled with the passion and indignation that was seen throughout her performances, Lawrence finds herself providing another powerhouse display, even if the movie itself fumbles to make the most of this top-tier performance. Not every movie can be a winner, but this intriguing, occasionally commanding film is benefited greatly by Jennifer Lawrence.
The Hunger Games
In the movie that turned Jennifer Lawrence from arthouse darling to movie superstar, The Hunger Games is certain a prominent and prosperous film on Jennifer Lawrence's resume. The actress was given a dystopian franchise that could've easily fizzled out from the public's conscious the way so many franchise non-starters do. But through her weighted, emotionally-resonant performance, Lawrence helped transport the ambitious franchise-starter into a bonafide box office hit.
As Katniss Everdeen, Jennifer Lawrence brought an honest emotional sincerity to the role that came from her experience of working with intense emotional dramas. That resonance helped the series become grounded and honesty in a way that most science-fiction franchises aren't. It's through those commendable talents that Lawrence was able to excel and become one of the biggest movie stars in the film business today.
X-Men: First Class
Shortly before she set the world on fire with The Hunger Games, Jennifer Lawrence got her first taste of blockbuster filmmaking when she took on the role of Mystique in the rebooted X-Men franchise-starter, X-Men: First Class. As the morphing blue mutant, one who's an adoptive sister to Charles Xavier (James McAvoy), there is no doubt that this version of the character was set to play a huge part in the retooled X-Men franchise. Sure enough, it's safe to presume that nobody involved with the film really knew just how big and famous JLaw would get in a short amount of time.
While Jennifer Lawrence's heart never seemed to be fully invested in this series after this introductory installment, Jennifer Lawrence's take on the character provided audiences with a more rich, layered take on the standout X-Men character. Allowing us to the see the emotions and depths that were often only hinted at with Mystique during the first three X-Men films prior, this new take on the character was a gentler, more sympathetic version, and that is often thanks to Jennifer Lawrence's emotional talents as an actress. These talents would shine ever brighter throughout other films in her career.
X-Men: Days Of Future Past
The X-Men series has always been on wobbly ground. For every rise, there is inevitably a fall. For every film that's on the level of X2, there's typically an X-Men: The Last Stand or X-Men Origins: Wolverine that trails behind it, shattering the potential of this superhero series. Nevertheless, after a promising start of a new, retooled franchise with X-Men: First Class, the Marvel comic property was finally brought back to its former exhilarating heights with the exceptional crossover event, X-Men: Days of Future Past.
Through this movie, which blended the high caliber talents of the new cast with the established excellence of Hugh Jackman, Ian McKellen and Patrick Stewart, to name a few, the result is a series rejuvenator that could've easily been a huge hulking mess, but one that actually turned out to be one of the most surprising and beneficial superhero blockbusters in recent memory. Filled with great action, compelling stakes and a great roaster of talent, it's an exceptional installment in the X-Men universe, and it's quite possibly the last good-to-great film we'll see with these characters in quite awhile.
The only real reason why I'm ranking it a bit lower here is because, ultimately, the film is good, but it's not the best showcase of Jennifer Lawrence's talents. It's apparent throughout the film that her heart isn't really in the series as much anymore, and while that doesn't mean her performance is bad, it doesn't have the same compelling range as some of her other, better work, seen prominently and exceptionally throughout a number of titles listed in this article. In any case, while it's not a great Jennifer Lawrence film, it's still one the best movies to feature the actress, if that ultimately makes sense.
Winter's Bone
For many folks, including myself, Debra Granik's somber, harrowing independent film Winter's Bone was their first introduction to Jennifer Lawrence. The young actress was still in her late teens when she played the lead role of Ree, an impoverished, head-strong young woman living hastily in the Ozark Mountains while also trying to track down her drug-dealing father to prevent her family from being evicted. Though the film is definitely very minor in scope, it had a monumental impact on her early career. Specifically, the small Sundance title went on to receive four Oscar nominations, including a Best Actress nomination for Jennifer Lawrence, and it introduced Hollywood to this explosively talented young actress well on the rise.
Based on the book of the same name by Daniel Woodrell, Winter's Bone is an impressively sorrowful and powerful mediation on impoverishment and self sufficient under extreme devastation and economical decline. Yet, in a weird twist of fate, this tale of loss, poverty and misfortune paved the way for an incredible successful and lucrative career for Jennifer Lawrence, one that only continues to flourish with new projects. There's no denying that she is an exceptionally talented actress, and the proof was on the screen nearly 10 years ago when Lawrence came on the scene in Winter's Bone.
Like Crazy
In 2011, Jennifer Lawrence was already a young Oscar-nominated actress set to embark on her biggest, most prominent role to date as Katniss Everdeen in The Hunger Games saga. But in this transition period in her life, she was still an up-and-coming actress who was working in a number of independent titles, hoping to make it up the ropes just like every young actor and actress in Hollywood. In any case, even by the time Like Crazy made its way into theaters, it was a little surreal to see Jennifer Lawrence play a prominent supporting role in this intimate, small-scale romantic drama.
In writer-director Drake Doremus' tender, touching personal story, Jennifer Lawrence plays Samatha, a woman with whom our main male character, Jacob (the late Anton Yelchin), begins seeing shortly after his relationship to after his long-distance relationship with Anna (Felicity Jones), falls apart. In the broad scheme of the story, Samantha is ultimately a minor part —even though she's the third biggest character in the movie. It represents that brief window of time when Jennifer Lawrence was well-established and well-accredited, but just before the celebrity rose to international superstardom.
But in the limited role, Jennifer Lawrence's Sam gives Anton Yelchin's lovesick Jacob a small, yet loving, window into a more stable, dependable romantic relationship close to home, one that doesn't come with the aches, heartbreaks and baggage of a long-distance relationship. Ultimately, due to Jacob's heart bleeding elsewhere, the relationship doesn't last, and Lawrence conveys that sweetness and eventual sadness beautifully in this rare supporting turn.
The Hunger Games: Catching Fire
While The Hunger Games provided the backdrop to a compelling and prosperous YA film franchise, it wasn't until its stellar sequel, The Hunger Games: Catching Fire, that the series really lived up to this film's subtitle. Propelled by the commendable work of director Francis Lawrence, who took over the reins from Gary Ross, and boosted by a story with higher stakes, better action, stronger tension and greater dramatic potential, Catching Fire remains the strongest and more resilient installment of the series. It was the film where you could also see Jennifer Lawrence's acting talents take full flight.
With a higher budget, more wiggle room to evolve and elevated material that proved more world-expanding, greater challenges and more character development, The Hunger Games: Catching Fire does what every good sequel should: match or exceed what we've seen before and allow the series and the characters and the environments therein to bloom, mature and flourish in greater and more beneficial and compelling ways. In many ways, this sequel equals or exceeds the benefits of the first movie, and it's a shape that the following installments, Mockingjay - Part 1 and 2, couldn't match it.
American Hustle
Hot off the heels of Silver Linings Playbook, David O. Russell rounded up the talents of his proven stars, including Jennifer Lawrence and Bradley Cooper, and provided audiences with another sizzling, sensational dramedy, American Hustle. The period piece is a splashier, more ritzy and stylishly-mimicking film, copying more than a few notes from Martin Scorsese's filmography. Yet, through the passionate and invigoration of its exceptional cast, the film is given a great amount of spry energy and enthusiasm. That's most certainly the case for Jennifer Lawrence's character, Rosalyn Rosenfeld.
In her Oscar-nominated performance, Jennifer Lawrence plays the role with a bold ferocity that nearly outmatches her work with David O. Russell's prior in Silver Lining Playbook, and it's certainly not for a lack of trying. While American Hustle doesn't live up to the same delirious heights as that previous film from the acclaimed filmmaker, it's still a stunning display of Lawrence's passionate talents. And it's another captivating performance from a performer who was near the top of the world at that point.
mother!
Though certainly divisive among both critics and general audiences, to say the least, Darren Aronofsky's visceral, allegorical horror-drama mother! is a spellbinding film. Filled with fraught tension, rigorous intensity and commendable craftsmanship, it is definitely not a conventional crowdpleaser, or any sort of crowdpleaser at all, and it doesn't work in everyone's favor. But for me, it remains not only one of Jennifer Lawrence's best films, but also one of the actress' greatest dramatic showcases to date.
Though the movie — at face value — is meant to be seen as a biblical retelling of humanity's disturbing relationship with mother nature, mother! is best seen as a high-stakes surrealist story that portrays the ego-driven, emotionally-disastrous home life of an artist who wants to be both world-renowned and romantically reserved, and how the folks who care most for the artist are the ones who often suffer the most. It's a brutal, unbecoming movie, and it is perhaps more for the arthouse crowd than the folks who like Jennifer Lawrence's blockbuster work. But if you have the stomach for what it dishes out, it's a gorgeously unsettling work of impassioned introspection — both intentional and otherwise.
But if you have the stomach for what it dishes out in excessive helpings, mother! is a gorgeously unsettling work of impassioned introspection — both intentional and otherwise. And Jennifer Lawerence's committed powerhouse performance often harkens back to Mia Farrow's iconic role in Rosemary's Baby. Strange, mysterious and often alluring, if you feel at home with something that's more messianic and unusual than your average theater visit, this is one that worth's seeking out.
Silver Linings Playbook
With writer-director David O. Russell's winning, wonderful Silver Linings Playbook, Jennifer Lawrence fully cemented herself as a great actress. While she had already proven her chops with Winter's Bone and The Hunger Games, it was in the role of Tiffany, the vivacious, yet deeply troubled, woman who serves as the mismatched match to Bradley Cooper's equally perturbed Pat, that ultimately won the actress her Academy Award. And it remains the role that best captures and displays all of Lawrence's multitudes of talents, capabilities and emotional prowess in one firecracker of a performance.
As she displays with a ferocity and tenacity of a young performer with a mountain of talent to prove, Jennifer Lawrence's award-winning performance is an exuberant, emotional, thunderous, rousing and brilliantly realized work of excellence. It's the type of heart-wrenching acting that commands the energy of a young performer while also containing the depths of an actress with an extraordinary future. Sure enough, that most certainly became true.
Jennifer Lawrence has become one of the most well-known and well-acclaimed young actresses in Hollywood, and it's thanks to a wealth talent as well as a great fortune of luck that she rose up into international super-fame. Watching her performance in Silver Linings Playbook, it's incredibly easy to see how that became possible. She is an astonishing actress with a wide range of dramatic heft and nuance, and while Silver Linings Playbook is one of her earliest performances in her blooming career, it does remain her most well-recognized and perhaps her most beloved performance as well. And that's more than a silver lining; that's a golden opportunity, and she took it and ran with it.
While there are some notable films on Jennifer Lawrence's resume that we didn't list, this collection of titles both big and small all help to display the exceptional talent of this incredible actress. And though it sounds like Jennifer Lawrence might be taking a bit of a recess from acting while she explores different things in her personal life, the actress has proven herself dedicated, assured, confident and commendable in many different ways. We hope to see even more rousing, brave and celebratory performances from this bright and acclaimed young actress in the not-too-distant future.
Your Daily Blend of Entertainment News
Will is an entertainment writer based in Pittsburgh, PA. His writing can also be found in The Playlist, Cut Print Film, We Got This Covered, The Young Folks, Slate and other outlets. He also co-hosts the weekly film/TV podcast Cinemaholics with Jon Negroni and he likes to think he's a professional Garfield enthusiast.