Hollywood's Racing To Make Two Uber Movies, Here's What We Know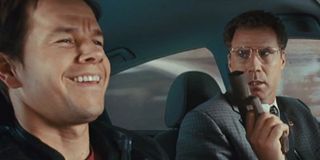 Only a few years ago the basic concept behind Uber probably seemed insane to a large segment of the population. Sharing a car with a total stranger through an Internet app? It objectively sounds like a ridiculous notion. However, Uber now has a firm grip on a huge portion of modern consumers, and the service has evolved into an incredibly common method of transportation. In fact, the service has become so ubiquitous that two separate films lampooning its concept are now racing to hit theaters first.
According to a new report from THR, two separate films focusing upon the major ride sharing service have entered development. Developed at Universal and FOX, respectively, these films will both be comedies centered on the absurdity of Uber, and the idea that anyone could get into a driver's car at any given time. Universal's film sold for well over $1 million, and is set to star modern comedy legend Will Ferrell. Although we don't yet know very much about the film, we do know that the film will follow the story of an Uber driver who picks up a sadistic criminal while on the job. In addition to starring in the film, Ferrell will also produce the movie alongside his frequent partner Adam McKay. Beyond that, the film has yet to finalize a title, or even a fully completed script.
On the other side of the aisle, FOX's Uber-centric comedy already has a title: Stuber. In a similar fashion to Universal's Uber comedy, Stuber will follow an Uber driver who picks up an old, grizzled cop in the midst of a career-making case, and the antics the two of them get into over the course of a single night. Although Stuber has yet to cast any of its main characters, FOX already has a finished script to work with, effectively giving them an overall advantage over Universal with regards to getting their Uber movie produced first.
As previously mentioned, Uber has managed to become a central part of modern life in only a few short years. Aside from its inherent usefulness, the company has also managed to tap into numerous aspects of pop culture. These stunts range from the incredibly minor – such as offering copies of Madden to those who use the service – to the insanely major – such as having drivers operate in Mad Max: Fury Road inspired cars. Uber has effectively changed 21st century culture, and as such, it's now time for the service to become properly ridiculed by Hollywood.
Considering the sheer ridiculousness of Uber as a service, and the wonderful opportunities to have some fun at the popular app's expense, we can't wait for either of these films to come out. No matter who wins or loses this race, we as audiences will reap the benefits. We will bring you more details related to both of the upcoming Uber comedies as they become available to us.
Originally from Connecticut, Conner grew up in San Diego and graduated from Chapman University in 2014. He now lives in Los Angeles working in and around the entertainment industry and can mostly be found binging horror movies and chugging coffee.
Your Daily Blend of Entertainment News
Thank you for signing up to CinemaBlend. You will receive a verification email shortly.
There was a problem. Please refresh the page and try again.