How Fast & Furious Used A TV Trope To Make The Most Exciting Movie Universe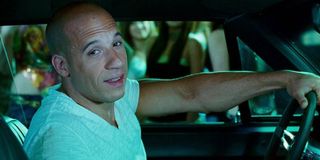 Justin Lin was inspired by The Golden Girls.
When he took over the Fast & Furious franchise for Tokyo Drift in 2006, "That was a critical point in the direction of the franchise," as he told Entertainment Weekly (via Yahoo! Movies). After a sequel that brought back Paul Walker but not Dominic Torretto, Lin was charged with continuing the series with a film set in Tokyo, featuring none of the characters from the original The Fast and the Furious. Lin played most of the movie straight, setting up a story about an American kid getting into the drift racing scene of Tokyo, and getting away from the original film entirely… except for the last shot. In a surprise last-minute cameo Vin Diesel showed up after all, talking about his friendship with Han and setting up this dumb car-racing series as a dumb car-racing series with a mythology.
That was a risky and probably insane thing to say in 2006, when comic book franchises were still pretty much limited to one character's story and even James Bond was doing his best to get away from his past with Casino Royale, which was essentially an origin story. But two years before Nick Fury walked into Tony Stark's life at the end of Iron Man, the Fast and the Furious series was setting up the kind of coherent, multi-movie universe that Marvel is now turning into a global industry. And it actually all started with The Golden Girls. In November of 1991 NBC pulled a publicity stunt called "Hurricane Saturday," in which three of its sitcoms -- The Golden Girls, Empty Nest and Nurses-- all had episodes revolving around the same hurricane, and characters from each show popped in on the other. As Lin said to EW, "It blew me away as a kid: They all live in the same universe!"
The crossover episode has been a TV staple for decades, and if you don't remember "Hurricane Saturday" you probably remember when The Flintstones met the Jetsons, or when The Jeffersons bought the Bel-Air mansion from Uncle Phil, or when Kramer sublet an apartment from Paul and Jamie on Mad About You. Those episodes always had that mind-blowing "they're in the same world!" moment, but they were even more fun because they often came as complete surprises. Unlike the world of The Avengers or the forthcoming DC Universe, there's no pre-established storytelling that tells you the New York City of Mad About You and Seinfeld are one and the same, or that Dom Torretto and Han Seoul-Oh had all these previous adventures we didn't see. The connections happen because someone ballsy like Lin decides to do it, and his sense of glee in making it happen transfers directly over to the audience.
And even though the many connections of the Fast and Furious world are established by now-- there are characters from all five previous films brought together in Furious 6-- there is still room for new surprise links and callbacks, particularly in the film's top-secret final moments. Justin Lin is departing the franchise now and handing the reins over to Saw veteran James Wan, but he's left the series in an incredible place, with seemingly limitless potential for spinoffs and prequels and other stories set within a fictional universe that only Lin realized could even exist. As everyone looks forward to The Avengers 2 and rattles off the laundry list of possible characters who could show up, Wan and the Fast & Furious team are able to do the same kind of scheming, but make it up as they go along. In a world full of franchise sagas that have already been written somewhere else, the Fast & Furious series remains thrillingly new… and we have Blanche, Dorothy, Sophia and Rose to thank.
Your Daily Blend of Entertainment News
Staff Writer at CinemaBlend
Your Daily Blend of Entertainment News
Thank you for signing up to CinemaBlend. You will receive a verification email shortly.
There was a problem. Please refresh the page and try again.