How Superman Completely Changed Terence Stamp's Career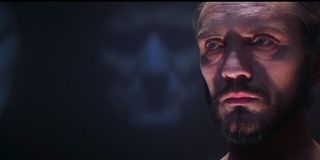 Playing a beloved character like Superman can have a huge impact on your career, for good or ill—it's the role Christopher Reeve is most remembered for, and one that set Brandon Routh's progression back a few steps. But what about playing his nemesis? Turns out that can be a transformative experience, too, and Terence Stamp says his role as General Zod in the Superman movies dramatically reshaped his career.
Playing the Man of Steel's longtime adversary allowed Stamp to redirect his professional arc. Talking to the Guardian, he says:
In the 1960s, Stamp was a sought after star, working with directors like Ken Loach in Poor Cow, John Schlesinger in Far From the Maddening Crowd, and Pier Paulo Passolini in Teorema, but when the 1970s hit, his fame met with precipitous nosedive. Stamp credits his role as the Kryptonian warlord in 1978 (and again in 1980's Superman II) with reviving what would go on to be a long, illustrious run. It provided him with the tools to reclaim his career.
The role couldn't have come at a better time for the British actor, as people had essentially stopped looking for Terence Stamp and started looking for Terence Stamp types. This led to a serious occupational lull. He says:
From there he embarked on a globe trotting journey that concluded with an extended stay in India, which is where, in 1976, he received a telegram, addressed to Clarence Stamp, offering the role that would pull him out of the doldrums both personally and professionally.
In the ensuing years, Stamp took his newfound freedom to heard and really has done just about everything, appearing in projects as diverse as Wall Street, Star Wars: Episode I—The Phantom Menace, and The Adventures of Priscilla, Queen of the Desert. He even returned to Superman, lending his gravelly voice to Jor-El on Smallville. 1999 kicked off another career shift as Steven Soderbergh's The Limey cast Stamp in a new light, as the grizzled elder badass, a kind of precursor to Liam Neeson's late-career action hero surge.
Nothing about Stamp's career, before Superman or after, has been easy or predictable. But, his role as General Zod in the Superman films definitely opened new doors that may have remained closed otherwise.
Your Daily Blend of Entertainment News