How The New Terminators Were Actually Created By Genisys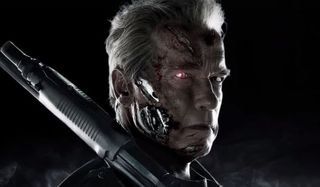 Terminator Genisys was far from the rousing success that Paramount Pictures expected. However, despite these issues, there's no denying the fact that the visual effects in the film were truly spectacular. Now, a handy video has been released that shows just how much time and effort went into creating the special killer robots for Genisys, which anyone with even a passing interest in cinema should instantly watch.
It's easy to forget or dismiss just how much craftsmanship goes into creating such impressive visual and special effects. Some moviegoers will simply assume that any slight tweak or alteration to an actor's face or appearance has been done with a computer. But the above video proves just how many people and hours are needed to complete the task at hand.
That's why, to celebrate their actions, here's a closer look at the people who spent countless hours, days, weeks, and, probably, months tirelessly working to create the array of Terminators in Genisys. They deserve their recognition.
The digital recreation of the original Terminator from James Cameron's brilliant 1984 sci-fi classic actually took 12 months to create. And alongside the plaster cast that the visual effects team spent a copious amount of time molding, they also used archive footage of Schwarzenegger, as well as Brett Azar, a bodybuilder that has a similar body to the actor's 1984 appearance, to create the genuinely realistic new scene. They then also used performance capture of Schwarzenegger reading his lines, which they scanned on in post-production.
At this point in time we're still not too sure if the hugely talented team will be asked to return for the sequels to Terminator Genisys. That's simply because we're not sure if there actually will be sequels to Terminator Genisys.
While the film was far from a flop, its current return of $317.7 million at the global box office won't give Paramount much confidence that a potential sixth instalment to the franchise will be profitable. Currently, Paramount are still undecided whether the two sequels scheduled for May 19, 2017, and June 29, 2018, will now be shot and released.
At this point it would probably take the return of James Cameron to convince the studio that future Terminator films would be worthwhile. But he's a bit busy over on Pandora to try and save the ailing franchise.
Your Daily Blend of Entertainment News
Thank you for signing up to CinemaBlend. You will receive a verification email shortly.
There was a problem. Please refresh the page and try again.