How To Train Your Dragon 2 Adds Cate Blanchett, Reveals Kit Harrington's Role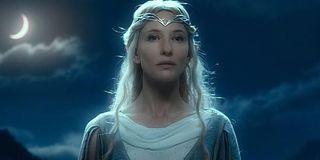 DreamWorks Animation is claiming the first movies panel of Comic-Con today, and they've wasted no time in breaking some news about one of their most anticipated upcoming films. Our Mack Rawden is in the room liveblogging the panel and he reports that after showing off an "awesome" new clip from How To Train Your Dragon 2, they announced three new characters for the film-- voice by two Oscar nominees and a man who knows his way around the fearsome North.
We heard that Game of Thrones's own Jon Snow, a.k.a. Kit Harrington, would be joining the voice cast of the Dragon sequel, but only today did DreamWorks confirm his role as "a self-declared world's greatest dragon trapper. He's very brazen." Harrington then took the stage, and predictably, the audience went nuts. He'll be joined on the villainous side by Djimon Honsou, the Oscar-nominee who is playing a character with a Game of Thrones-esque name of his own, Drago Bloodfist. And finally there's Oscar-winner Cate Blanchett, voicing a character name Volca. Director Dean DeBlois says "She's a feral recluse vigilante that's been out there rescuing dragons from traps. Her name is Volca" In the quest to protect dragons like Toothless from bad guys, it sounds like Volca will be working alongside our hero Hiccup.
The DreamWorks Animation panel is still happening as I write this, so click here to follow along! You can also check out the film's newly released, totally beautiful teaser trailer below:
Staff Writer at CinemaBlend
Your Daily Blend of Entertainment News
Thank you for signing up to CinemaBlend. You will receive a verification email shortly.
There was a problem. Please refresh the page and try again.