How To Train Your Dragon 2 Will Soar Towards Theaters In 2013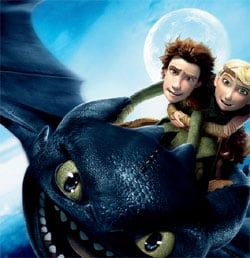 This early in the year, at least until summer comes and washes the mediocrity away, cinema success stories are too few and too far between. But the box office persistence of How to Train Your Dragon is one of the biggest positives in the first half of 2010, a great movie which debut to respectable numbers and then just hung around at the top of the box office charts buoyed by incredibly positive word of mouth. It's the kind of movie which you'd love to have more of, and now we will.
DreamWorks tells THR that they're planning a How to Train Your Dragon 2. Actually it's more like they're planning a whole How to Train Your Dragon empire. In addition to another movie they're working on a TV series and a touring live show. The live show will probably be something akin to "Walking with Dinosaurs", which if it shows up at a stadium in your town I highly recommend. If they can do that with dragons in a live, audience setting, it should be wildly impressive.
Right now DreamWorks Animation is targeting a second half 2013 release for the How to Train Your Dragon sequel. Of course when Kung Fu Panda achieved similar beloved critical and financial success they also announced a sequel for that. Where is it? Presumably still happening but, rather oddly, no one seems to be talking about it. 2013 is a long way off and though they have good intentions, there's always a chance it'll never happen. Here's to hoping it does.
Your Daily Blend of Entertainment News
Thank you for signing up to CinemaBlend. You will receive a verification email shortly.
There was a problem. Please refresh the page and try again.