How to Train Your Dragon Is DreamWorks' Highest Grossing Non-Shrek Film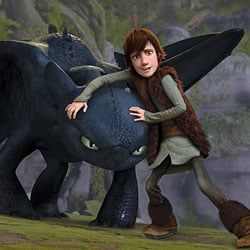 The critical reaction was one thing, but after its slow start who would ever have thought DreamWorks Animation's How to Train Your Dragon would go on to earn $215.5 million at the domestic box office? It only made $43 million its first weekend, but now Dragon is the studio's highest-grossing film outside of the Shrek franchise. Funny thing is, it was actually Shrek Forever After that made HTTYD unlikely to reach this point. Leading up to the fourth Shrek film's March 21st opening, HTTYD performed quite steadily, never dropping more than 40%. That all changed the weekend of the 21st when Shrek forced HTTYD to suffer a 62% hit.
Regardless, Hiccup and Toothless held on and enough theaters kept the film in play. Just last weekend HTTYD was added to an additional 120 theaters leading to a 186% boost and an addition $447,499, which was just enough for it to surpass Kung Fu Panda's $215.4 million.
Much as I love Dragon, there's no denying that inflated ticket prices had a little something to do with its financial success. Box Office Mojo did the math and if it weren't for the cost of a 3D ticket, HTTYD would likely have made only $175 million, putting it below Kung Fu Panda, Madagascar, Shark Tale, Madagascar: Escape 2 Africa and Over the Hedge. So HTTYD may have the bigger bank account, though these other films still caught the attention of more moviegoers. But who cares? How to Train Your Dragon is still the one I'll never forget.
Your Daily Blend of Entertainment News
Staff Writer for CinemaBlend.