New How To Train Your Dragon Trailer Dazzles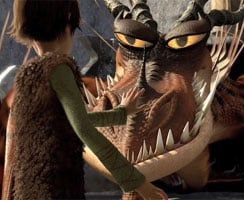 DreamWorks has released a new trailer for How to Train Your Dragon and simply put… it's stunning. While their animated movies are often hit or miss, when they're hit sometimes something special happens. Kung Fu Panda rates as one of my favorite animated movies of all time and the more I see if How to Train You Dragon the more it looks like another tale in the mold of Panda than in the now tired mold of Shrek.
This latest trailer is packed with action. Dazzling flying sequences, skyscraper-sized monsters, boiling fireballs, catapults, axes, and angry Vikings await. Watch the brand new trailer for How to Train Your Dragon in HD on Yahoo or watch it below:
Your Daily Blend of Entertainment News
Thank you for signing up to CinemaBlend. You will receive a verification email shortly.
There was a problem. Please refresh the page and try again.