The Huge Change Inside Out Made During Production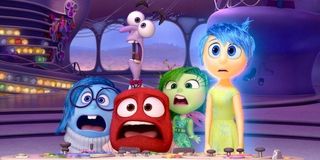 Pixar's Inside Out has been a huge success for the beloved animation studio. It was the biggest opening for an original movie property ever, critics adore the hell out of it, and fans are over the moon about the inventive tale. As with any movie, it was a process to get from the original concept to the finished product you see in theaters, and if not for one major change to the ending, Inside Out would have been a very different movie.
Editor Kevin Nolting, who also cut Pixar's much loved Up, spoke to The Hollywood Reporter about how about how the story evolved over a period of a couple years and how it was initially very difficult for the creative team to get a handle on. The story we saw in theaters shows the internal workings of young girl name Riley's mind at a very specific, trying time in her life. Earlier versions, however, showed a more extended period. Nolting said:
This was apparently the roadmap they creative team followed for more than a year, though as Nolting admits, there were pieces that just didn't work and changing their strategy helped address the issues they had. As it stands, the action in Inside Out is a huge turning point in Riley's life, as well as five different personified emotions—Joy (Amy Poehler), Disgust (Mindy Kaling), Anger (Lewis Black), Fear (Bill Hader), and Sadness (Phyllis Smith). Joy realizes that Riley can't simply be happy all the time and that a balance is important, just as Riley learns to accept the good and the bad.
Instead of showing her change, or not change as the case may have been, over time, they portray a single pivotal time in Riley's life, where she, as well as her emotions, primarily Joy, learns an important lesson about growing up, maturing, and moving on. While it doesn't always happen like this in real life, for the narrative in a movie, this strategy makes sense, and the journey of Joy and Sadness through Riley's memories became the key that linked everything together and turned into the focal point of the film.
There were a number of big changes aside from this made to the original story. Initially it was Joy and Fear on their own together, and at one point the plot was said to be reminiscent of Lord of the Rings, where the emotions had to go on a journey to dispose of a particularly troubling recollection by throwing into the pit of forgotten memories.
Your Daily Blend of Entertainment News