Hugo Star Asa Butterfield Reveals The Scorsese Movies He's Still Not Allowed To Watch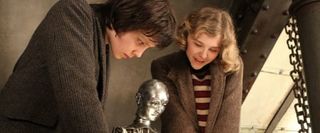 Asa Butterfield is 14 years old, but he's already fairly used to playing a leading man, with starring roles in The Boy in the Striped Pajamas and Nanny McPhee Returns behind him. But there's being the star of a film and then there's being the star of a film for Martin Scorsese, the director of Butterfield's next movie Hugo, which opens tomorrow. Butterfield was chosen from among a flock of hopefuls to star in a film that features in him almost every scene, playing the orphaned boy Hugo who lives inside the walls of a Paris train station and winds the clocks there every day. His life is already one kind of adventure, constantly running away from the Station Inspector and keeping an eye on daily life at the station, but it becomes an even bigger one when he crosses paths with the wide-eyed Isabelle (Chloe Moretz) and her godfather Papa Georges (Ben Kingsley).
With Hugo behind him and a potential starring role in Ender's Game ahead of him (though he's quick to say nothing is official), Butterfield is now figuring out how to navigate what seems like a quickly arriving stardom. I talked to him over the weekend about what he learned from Martin Scorsese, how Sacha Baron Cohen and Ben Kingsley taught him to stay in character between takes, and which of Scorsese's movies he's still not allowed to watch. Check it all out in the video below.
Staff Writer at CinemaBlend
Your Daily Blend of Entertainment News
Thank you for signing up to CinemaBlend. You will receive a verification email shortly.
There was a problem. Please refresh the page and try again.