The Hunger Games Advance Tickets Go On Sale In February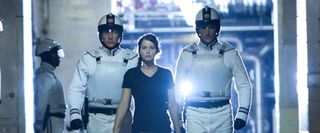 While we still have months (or specifically, 74 days) to wait for The Hunger Games to make its way into theaters, those who plan to pre-order their movie tickets in anticipation of the film will be able to do so as soon as next month.
The big screen adaptation of the Suzanne Collins novel The Hunger Games releases in theaters on March 23rd. Set in the future, the story takes place in a nation called Panem (once North America) and follows a teen girl named Katniss (Jennifer Lawrence) who is selected (kind of) to represent her district in a battle-to-the-death "game" with other kids from neighboring districts. Given the popularity of the series on which the film is based, the turnout for the film during opening weekend is likely to be high.
Those who wish to plan ahead in an effort to ensure they'll get to see the movie opening weekend will have the opportunity to order tickets just over a month ahead of the movie's release. Lionsgate made the announcement today, stating that advance tickets will go on sale Wednesday, February 22nd at MovieTickets.com and Fandango.com.
The announcement being made today was fitting and intentional, as January 9th marks 74 days until The Hunger Games hits theaters. The significance of the number fits with the 74th Annual Hunger Games featured in the story. Somehow, I suspect the Capitol would approve of this connection and acknowledgement. Regardless, fans are encouraged to Tweet the news with the hashtag #HungerGames74.
Since February 22nd is over a month away, those who think they'll need a reminder about the advance ticket sales next month can sign up at the film's Facebook page.
More information, photos and videos from the film can be found in our Blend Film Database.
Happy Hunger Games!
Your Daily Blend of Entertainment News
Thank you for signing up to CinemaBlend. You will receive a verification email shortly.
There was a problem. Please refresh the page and try again.