Ian McKellen Finally Set To Join The Hobbit As Gandalf?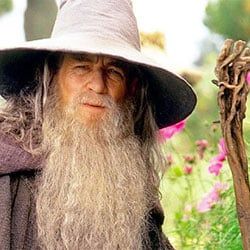 When the chief members of The Hobbit cast were announced a few weeks ago, one particularly important name was missing. Tolkien's story, like Lord of the Rings, involves a group on a long journey through Middle Earth. But unlike LOTR the traveling group is much bigger, consisting of thirteen dwarves, one hobbit named Bilbo, and one very familiar old wizard.
Gandalf is the only central character from Lord of the Rings who also plays a pivotal role in The Hobbit but when the cast was announced Ian McKellen, who played the character brilliantly through all three LOTR movies, was not listed among them. It's been more than a month and there's still been no word of McKellen's involvement, until now that is.
The One Ring points out that Ian McKellen's official site has a page which seems to indicate that he will indeed be involved in The Hobbit, and that page has been recently updated. It's far from confirmation that he's actually signed on the dotted line, but it is at least a hopeful sign. It seems impossible to imagine anyone else playing the character, but there had been some rumblings in the past that as the movie has been delayed over, and over and over again, McKellen's availability might come into question. Until there's a final, official announcement, we Tolkien fans will just have to hold our breath.
Your Daily Blend of Entertainment News
Thank you for signing up to CinemaBlend. You will receive a verification email shortly.
There was a problem. Please refresh the page and try again.