Inception Enters The Matrix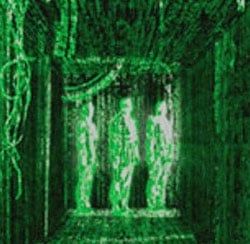 We've seen a lot of mash-up videos slapped together using the trailer for Christopher Nolan's Inception, but none quite as poignant as this. Found This version of the trailer uses footage from The Matrix, a movie about a virtual dream world in which people don't know they are living, to put together what is a stellar piece of fan art.
It's a stunning comparison as the movies seem more similar than you may have originally thought. There are two things this clip does though: First, it gives you another excuse to listen to the astounding Inception soundtrack by Hans Zimmer. And second, it tricks your brain into thinking that the Matrix sequels, Reloaded and Revolutions, were actually good and not bloated college philosophy projects. Anything that pulls that off deserves mad props.
The downfall of the piece is that the title card for Leonardo DiCaprio still displays even though we're looking at the less talented Keanu Reeves. A bit of text work could have swapped the name over, but aside from the that this fan mashup is solid.
Check out the faux trailer for Inception Matrix below.