Independence Day 2 Is Bringing Back Another Character From The Original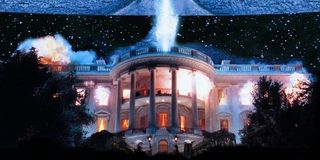 Despite its severe lack of Will Smith, Independence Day 2 is actually shaping up rather nicely. Jeff Goldblum is back on board, he'll be joined by the eminently watchable Liam Hemsworth, and it's now also been confirmed that Brent Spiner is returning for the blockbuster.
Roland Emmerich, who is stepping back into the director's chair for the follow-up his 1996 disaster epic, took to his Twitter account to confirm that Spiner will reprise his role as Dr. Brackish Okun for Independence Day 2, while also confirming that a new actress will join the ensemble.
Before you can potty yourself over a certain issue, let me just declare that I know exactly what you're all thinking: didn't Brent Spinner's Dr. Brackish Okun die in Independence Day? Because that's exactly what appeared to happen in the original. I mean, does this guy look like he's about to shake off his injuries and go on living happily ever after?
Well, it turns out that rather than perishing after being accosted by the vindictive extra terrestrial, Dr. Brackish Okun actually went into a coma, even though everything in the above scene actually points to his death. I suppose he could have been resuscitated while the rest of Independence Day unfolded, it just seemed very unlikely.
Regardless of whether it makes sense, Brent Spiner's return is an encouraging sign as it creates yet another bridge between the original film and the impending sequel. Also, having had his brain consumed by the alien, he will have first hand knowledge of how these creatures think and act. Plus, Spiner is a welcome addition to any cast thanks to his eclectic but constantly intriguing performances, and he was particularly sensational as the excitable scientist Okun in the original.
Joey King is another sturdy addition to an already impressive cast. Despite being just 15-years-old, King has already proven that she has the skill to not only mix it up with her more renowned and mature co-stars, but she can also excel opposite them too. Independence Day 2 will be with us on June 24, 2016, and Spiner and King will be joined on-screen by Liam Hemsworth, Jeff Goldblum, Jessie Usher, Charlotte Gainsbourg, and Vivica A. Fox for the follow up, which, even though it's being directed by the always temperamental Emmerich, might just be the surprise hit of summer 2016.
Your Daily Blend of Entertainment News
Thank you for signing up to CinemaBlend. You will receive a verification email shortly.
There was a problem. Please refresh the page and try again.