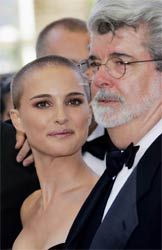 Through three movies we've seen Indiana Jones travel with three different women, a half pint sidekick, and even drag his father along for the ride. We've known for a while now that all the important parties want to do a fourth film, so who's going to tag along this time: How about a daughter?
According to WENN, Raiders of the Lost Ark co-star Karen Allen hinted at a reprise of the character in the potential fourth film during a recent screening of Raiders. She also let slip that the part of Indy's daughter has also been cast: Natalie Portman. Immediately Allen changed the subject, realizing she shouldn't have said something, but the news was already out there.
Portman would be a logical choice, as the actress already has a strong professional relationship with Indiana Jones producer George Lucas. Could she already have been cast in the role however? I'm hesitant to say this is a definite yes. The script for the fourth chapter of Indy's adventures has been going through rewrite after rewrite for almost a decade now, and there's never been a schedule announced for shooting that is convenient for Lucas, Steven Spielberg, and Harrison Ford. Add in the possibility of Sean Connery appearing as Henry Jones, and now Natalie Portman's busy schedule, and you've got a real mess.
I'm not saying a fourth Indiana Jones film isn't happening, and I'm not saying Portman won't appear in it. I am saying the news seems rather random, casting a film that has yet to officially enter pre-production.
Your Daily Blend of Entertainment News
Thank you for signing up to CinemaBlend. You will receive a verification email shortly.
There was a problem. Please refresh the page and try again.