Inherent Vice: P.T. Anderson Tries His Hand At Stoner Comedy, Fails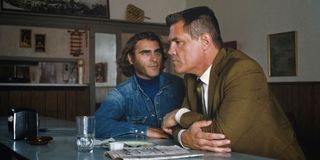 Strange but true: One of the most anticipated films at this year's New York Film Festival is a stoner comedy. But not just any stoner comedy. This one is rolled to the point of bursting with pre-screening prestige. Based on the novel by Thomas Pynchon, directed by heralded writer-director Paul Thomas Anderson, starring moody Academy Award-nominee Joaquin Phoenix, Inherent Vice was expected to be a total knock out. That's why critics lined up as early as four hours ahead of its press screening, to assure they'd have a seat for the big show. But for all its esteemed stars and good-on-paper reasons to anticipate greatness, I found this stoner-noir to be a slog.
I'm sorry to be the buzz kill to the P.T. Anderson party. But this is a long, complicated noir is so choked in stoner logic that its plot reeks of incoherence.
Joaquin Phoenix stars as Larry "Doc" Sportello, a private detective/dedicated stoner who scurries around 1970 Los Angeles, trying to solve mysteries while avoiding the vengeful reach of his LAPD nemesis Bigfoot Bjornsen (Josh Brolin). This particular case begins when Doc's ex-girlfriend Shasta (Katherine Waterston) crashes back into his life with a story of extramarital affairs, sugar daddies, and betrayal. From there, Doc collides with a wild range of characters -- from a passive aggressive and desperately horny housekeeper (Yvette Yates), to a drug-pedaling, skirt-chasing dentist (Martin Short), and a floppy-haired former junkie who is in over his head with some dangerous people (Owen Wilson).
There's a myriad of enticing performances in this film, from all those mentioned above to Reese Witherspoon as a stone-faced attorney, Sasha Pieterse as a spoiled and drug-addled rich girl, and Jena Malone as a once-neglectful, now-hopeful single mother. Many may revel over Phoenix's latest transformation. In his pratfalls and ambles, it's reminiscent of Charlie Chaplin. In his biting banter with Bigfoot, it's more Bugs Bunny. In his spastic attempts at crime solving, there's a big dose of Scooby Doo's Shaggy. But unlike these influences, his mugging and falling, goofing and gaming just isn't all that funny. It's zany. It's silly, And it's flat.
Between the production design, lighting, and over-the-top characters, Inherent Vice does feel like a live-action cartoon. There's something remarkable and intriguing in that. P.T. Anderson paints a world of vibrant colors and debauched characters. Some setups are painted in neon rose that suggests heat and exasperation. Simple scenes play out against gorgeous backdrops of radiant sunsets or stark cityscapes. Little production details like the fruit-cluttered cocktails Doc drinks with his lawyer (Benicio Del Toro) or the pornographic silk ties favored by a shady real estate billionaire (Eric Roberts) add a lurid texture to the world of Inherent Vice. Similarly, the ensemble--most of whom get little more than a few minutes of screen time--offers brief moments of enticing oddity and dazzling derangement. I ended up clinging to the small pleasures of such eccentric details because I had little to hang on to in the film's plot.
From the inciting incident with Shasta, it's unclear what exactly Doc's mission is. This becomes an uglier and uglier snarl as Anderson folds in a cavalcade of characters in fits of frenzied exposition. Some dialogue scenes are performed in whispers or mumbles so low that they are incomprehensible. Voiceover from singer Joanna Newsom attempts to lend insight, while occasionally nudging Doc into action. But rarely is this device helpful in clearing away the thick fog of confusion that cloaks the plot as fogs of pot smoke do the characters.
I began to wonder if the film was meant to be confusing, just as the mystery in Inherent Vice might be to someone who is deeply stoned. In the press conference that followed, Anderson suggested he wanted the plot's mystery to be perplexing, but hoped it would be so entertaining that audiences would be on the edge of their seats to see what happens next. Well, he succeeded on the first count.
This was not a world so fascinating that I was entertained just by following the sloppy Doc through it. And at nearly 2 and a half hours, I was bored and annoyed by Inherent Vice's exasperating narrative far more than I appreciated its cartoonish quirks.
The world premiere of Inherent Vice is tonight at the New York Film Festival, where the film plays as its Centerpiece.
Your Daily Blend of Entertainment News
Staff writer at CinemaBlend.