P.T. Anderson's Inherent Vice Finally Has Footage, See It Here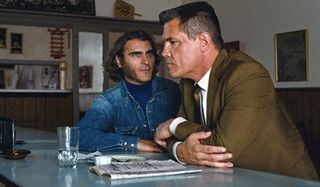 The Toronto International Film Festival is still raging, but the New York Film Festival is eager to steal focus with a new trailer that boasts our fist look at actual footage from Paul Thomas Anderson's hotly anticipated Inherent Vice.
Based on the novel by Thomas Pynchon, Inherent Vice reteams three-time Academy Award nominee Joaquin Phoenix with his Oscar-winning Walk The Line co-star Reese Witherspoon. In a role that is already generating Oscar buzz on sheer anticipation, Phoenix plays Larry "Doc" Sportello, a private investigator in 1970 Los Angeles who slinks through a drug-fueled haze as he tries to uncover what's become of his missing ex-girlfriend and her current boyfriend, a rich land developer.
While some filmmakers like X-Men: Days of Future Past helmer Bryan Singer are eager to share elements of their movie at every step of production, P.T. Anderson has been incredibly tight-lipped through the making of Inherent Vice. We know the five-time Oscar-nominated director of such lauded dramas as Boogie Nights, The Master and There Will Be Blood has wrangled a wildly promising cast that includes not only Joaquin Phoenix and Reese Witherspoon, but also Jena Malone, Josh Brolin, Benicio Del Toro, Owen Wilson, Michael K. Williams, Maya Rudolph, and Sasha Pieterse. But Anderson only allowed for a first look of his lead in costume late last month.
This level of withholding has cinephiles positively salivating over the film's world premiere at the New York Film Festival next month. From there, a limited release will hit on December 12th to make the drama eligible for Oscar season. Inherent Vice will open wide on January 9th.
While the premiere of Inherent Vice footage will earn this exclusive EW trailer headlines, it is actually an embarrassment of riches. NYFF consistently boasts on of the best line ups of any film festival worldwide, and this year looks to be no exception. Among the biggest titles to its world premiere there this year is David Fincher's Gone Girl. Flashes above show stars Ben Affleck and Rosamund Pike looking dismayed and distressed. Equally eye-catching is the Michael Keaton-fronted dramedy Birdman, which has the former Batman star playing a washed-up actor who taps into his long-hidden superhero alter-ego to pull through a personal and professional rut.
Some of the lesser known yet compelling cinema teased above boasts other stars. Willem Dafoe kicks off this trailer in the title role of Abel Ferrarra's Pasolini, a biopic about the last days of the Italian filmmaker Pier Paolo Pasolini. Godzilla scene-stealer Juliette Binoche pops up with co-star Kristen Stewart to entice us to see Olivier Assayas's the showbiz drama Clouds of Sils Maria. Consumate character actor Timothy Spall gets a rare lead role in Mike Leigh's Mr. Turner, which paints a life portrait of artist J.M.W. Turner. Richard Gere blinks in a blink-and-you'll-miss-him moment as the homeless man at the center of Oren Moverman's Time Out of Mind.
Marion Cotillard stands out in a pink tank top, giving us a glimpse of Jean-Pierre and Luc Dardenne's latest drama Two Days, One Night. Jason Schwartzman and Elisabeth Moss score some screentime Alex Ross Perry's original romance drama Listen Up Philip. And of course bearded Mark Ruffalo and a made-under Steve Carell flash their faces to promote Bennet Miller's Moneyball follow-up, Foxcatcher.
Which of these are you most looking forward to? Tell us in comments.
Staff writer at CinemaBlend.
Your Daily Blend of Entertainment News
Thank you for signing up to CinemaBlend. You will receive a verification email shortly.
There was a problem. Please refresh the page and try again.