Interview: Director Adam Shankman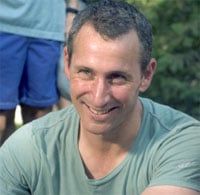 On the penultimate day of the festival I got back to my hotel early evening and behold, joy of all joys, my humble prayers had been answered – a message on lagoon blue note paper lay judiciously balanced on my pillow, winking at me like a neon sign - I was duly invited to attend a round table discussion with "Bringing Down The House" director Adam Shankman, the man behind the all new reincarnation of the cult John Waters 1988 movie Hairspray the very next afternoon. Told you all that incessant ranting and raving, fasting on gelatos by the hour followed by thrice daily pilgrimages to the temple of all temples – the 60th Locarno International Press Office would work wonders in the end. So I celebrated folks, with a slap up steak dinner with everything on the side and the biggest and best house cocktail my relatively modest by comparison budget could muster. So here it is, the transcript of my actual quite lengthy discussion with US director Adam Shankman who under 30 minutes gave us the complete low-down on everything from why he wanted to remake an all out singing and dancing version of the Tony award winning Broadway show to working with the likes of John Travolta, turning unknown Nikki Blonsky into an overnight star and on a more personal note how he identifies with the 'outsider' character of Tracy Turnblad and how this movie contributes to the ever present debate on racial equality and inclusion.
MP: Were you instrumental in casting John Travolta in the role of Tracy's Mom Edna Turnblad and was it a joint decision to play her in this fragile, understated way in a movie that is otherwise big on personality, music, song and dance?
AS: The only cast member who was in when I came on board was John Travolta and he wasn't in for sure until I met with him and we discussed how I was gonna approach the entire film, but more significantly with him how I wanted to approach Edna – you know not making her a wink or a joke but portraying her as a real woman with hang-ups. You know the way in which weight is portrayed in this movie is simply as another kind of minority; she's just a different kind of minority. So John and I just talked about that and about how much more I just wanted to see him dance you know in this movie, he loved it and so he signed on board.
MP: She's huge but at the same time very sensual and you get this feeling that she really blossoms half way through the movie and with that becomes more extrovert, more confident about herself and her physical appearance.
AS: It's interesting that no one has played her as tragic before but I kinda wanted here to start out as tragic and gradually to let her joy open up as she becomes more accepting of her size. With Edna I knew what we were aiming for and John didn't want her to turn out like a kind of refrigerator – he wanted her to be shapely and curvy. He grew up watching a lot of Sophia Loren and Anna Magnani and I on the other hand just though she ought to be curvy but imagined her to be thin as a younger woman, that in her utterly Baltimore kind of motherliness had just bloomed. But I was totally adamant that she and Wilbur had a sexual relationship and that he was still hot for her. And John wanted her to have a certain sexuality about her – the ass and the boobs accentuated but with a smaller waist. But in the first scene I really did have to persuade him in to allowing her to be shapeless, but that's the only one and he really demanded that we see her shape in the other scenes. I thought this was a great instinct on his part because she's so loveable, although admittedly the costume director got frustrated with this at times.
MP: She's quite retiring, a recluse almost, isn't she. She has a husband who secretly adores her but they're like most lower middle class couples of their generation, there's an unspoken trust but a kind of complacency about their marriage, in fact it's only when Tracy re-introduces her to the real world that she comes into her own so to speak.
AS: It's interesting you should say that, there's a lyric in one of the songs 'Welcome to the Sixties' where Tracy says "Hey Mama, hey Mama, have some fun" and Edna says "I haven't left this house since 1951". So we're basically saying that if a woman hasn't left the house in 11 years that she's a shut in, and that if she's a shut in that she's ashamed and scared to venture outside, which makes her damaged and vulnerable. And John loved that softness about her, then we went on to look at how she should be in her own home, that really she should be the Queen Bee but when she has to go out into the world she doesn't feel like a Queen Bee, you know she just cracks then she changes in just one song where she comes into her own but then she gets upset at Velma having a dig at her and then becomes even more upset when she thinks Wilbur is cheating on her. I guess she reacts like a real woman of the period would but John based her a lot on his Mom. But really that whole understatedness came from that one line "I haven't left this house since 1951".
MP: In what way did he base her on his own Mom, was she a big woman or do you mean in terms of Edna's gentle, unassuming character?
AS: John grew up in a lower middle class neighborhood in New Jersey and I think there were a lot of women around at the time who were like this, so I think that's what he was basing it on. But I loved the fact that the audience become involved in the emotional journey – in the John Waters movie and kind of in the play Edna doesn't have an emotional trajectory – it's just another layer John introduced that made it more fun and put an original sta
MP: on the character. It wasn't his intention to compete or comment on his predecessors' performances.
MP: Apart from John you were directly involved in casting the other roles, right? You've worked with Queen Latifah before haven't you – I guess with her African American roots, larger than life persona and great soulful kind of voice, she was the ideal choice to play Negro Day host Motormouth Maybelle.
AS: I spoke to Queen Latifah about doing this movie, who I had a great success doing "Bringing Down The House" with, and we both agreed that the best way to combat fear and prejudice is often through humor – you know by throwing it back in the faces of the racists and those who resist change. This movie's all about inclusion and once we'd discussed it she was really drawn to the role.
MP: And Christopher Walken who plays the meek Wilbur Turnblad and Michelle Pfeiffer in a mesmerising turn as the wicked witch of daytime T.V, how did you persuade them to ju
MP: on board?
AS: Well, Christopher Walken thought it was really funny, he really loved the script and was my first choice to play John's husband. Michelle Pfeiffer I just couldn't believe because she always says no to just about everything – you know she just wants to be at home raising her kids and being a great mother and wife – so when this came up I think my passion and kind of craziness really enthused her and she thought it might be kinda of fun.
MP: Is this a watertight remake of the stage production, are there parallels with Waters's original non musical movie or is there a noticeable departure in style and tone?
AS: For starters there is a significant difference in tone between this version and John Waters's original version in that is that John's movie is based on his experiences during his teenage years and an article he wrote about this bunch of kids who went on this T.V show. So it had this very real quality to it and you could say was also a kind of an arched remembrance of his youth during a time of racial crisis. Incidentally, John just loves our movie, which means a lot to me as it would have bothered me greatly if he'd been against or not agreed with it, but the point is not for me to get out there and prove that I can make Hairspray bigger or better; I'm adapting the Broadway show, that's the big difference.
MP: You've said in a recent interview that Tracy is essentially you in this movie and that you felt like telling the story entirely from her perspective. Why was it so important for you to approach the subject matter in this highly subjective way?
AS: Well, this movie looks at everything from Tracy's viewpoint because I feel like Tracy in my own life but in a different way; I've always felt an outsider, you know I've never understood why people hate and I was raised in a household that stood for what this movie is about. And in doing that it made it less campy, it lent the whole thing a different tone because for me. Tracy always hears music and she just wants to sing and dance all the time, but then she loses her self esteem half way through, which is what makes this such a good story, and when she eventually becomes selfless she evokes change and a stick of joy becomes dynamite inside the ugliness of fear – a fear of change. But change is the one thing we cannot stop, it's the one inevitable thing about life, you know.
MP: There is a great, overwhelming sense of joyousness and fun loving spirit in this movie, which seems to spill over into everything you do. Have you ever been tempted to reign this ebullience in and approach your work less full on, perhaps attempt subject matter a little less zany?
AS: No, definitely not. The enthusiasm and joyousness I exude is naturally a part of who I am – you know I came out of the womb doing cartwheels and now I'm finally getting to express my true self possibly for the first time. Those earlier movies were just definitely jobs, though I don't regret them, I was happy to work. This was a very scary movie for me to do, as I was aware of what I was risking because that's like me up on that screen and I felt for sure that people who judged this movie would be judging me. I don't know how often directors feel that way, but I've come to realise that it's a lot to bear, to feel like if people hate this thing I've created, that means they hate me. Some people say I don't care, but I do. If this movie had turned out differently I'd have been very upset. But I admit in this particular case I had wonderful material to support me – if the music had been sucky I would not have been able to succeed on this level because the score is so enthused with that joy and enthusiasm – this made it a whole lot easier for me to approach it.
MP: And because you're actually a choreographer by trade, you put together all the dance moves and sequences, right? There's a lot of dance numbers in this movie, which I guess took up a lot of your time to perfect?
AS: The pace on set was unbelievable and some of my assistants couldn't keep up with me – it's true that I was simply burning through numbers. I think I choregraphed 'Nicest Kids in Town' in three quarters of a day, which is every step and then figuring out patterns, even. You know that's really fast and I'd hardly recommend it to the folks back home. But then "Can't Stop the Beat" took a long time because there's so many sections in it. The cast were singing live on stage and to prepare them we put the kids through two months of rigorous vocal and dance training, I myself rehearsed for 4 months and got my assistants up to speed, the adults rehearsed for a month because they had a lot less dancing to do than the kids. But during the rehearsal process every day they had 6 hours of dancing, 2 hours of singing, then scene work rehearsals for a month.
MP: I guess you really put them (the cast) through their paces, then? This must have helped them focus on what was required, especially as you filmed out of continuity.
AS: Yeah, you're right. I think it took us 3 and a half months to do "I Can Hear the Bells", which we shot on day 1, day 2 and the last day because of locations. So the actors had to be able to pick it up at any time, to make it look as fresh and spontaneous as the first time, for sure it had to be really engrained in their heads. Then "Welcome to the Sixties" was shot over 5 weeks, for example, it all depended on whether that one location was available for the duration of filming. Anyhow we rehearsed so much that everyone knew exactly who their characters were. Basically, that was the aim. Then the week before we started shooting we laid down all the tracks and because we'd spent so much time fine tuning the performances the actors could gauge intuitively when they would be out of breath, when they would be doing some explosive dance step that would obviously take more out of them, so that they could combine the singing with the dancing part more easily and so extract a whole lot more out of their end performance.
MP: Then there's that really evocative moment when Edna and Wilbur dance through the rose garden; it's as if they've both been liberated by this new 60's vibe that suddenly touches their lives, instilling in them a whim of nostalgia, almost a youthful passion that rejuvenates their relationship. Can you tell me more about this?
AS: Sure, it only took half a day to do that one, I guess because I just instantly felt what they were feeling, their different emotions, and I decided to put in a dance break to express the different elements of their relationship. The little mock tango is like a sexual part of their relationship, and then the Fred and Ginger thing represents the romantic glamor. But then above all of this there's a whole playfulness to it that's infused into who they are – just two lower middle class people dancing through a clothes line in their back yard, you know just a whole bunch of clothes. But I don't think that really matters because it just expresses the fact that they love each other so much. If you look at the lyrics the whole song is saying "I love you for who you are, you're fat and old but baby boring you ain't, you're like a stinky old cheese just getting riper with age", you know.
MP: I just loved the musical score to this film, they're so evocative of things like emancipation and the struggle against indifference, which is what this movie is all about. Can you tell me more about the music?
AS: Of course. Marc Shaiman actually wrote a couple of new songs for this movie which are "Come So far" and Ladies Choice", but then "New Girl in Town", which is a song I've always loved, is performed during the Tracy rising to fame montage and is a number that was actually written for the play but for some reason was never used. I've been friends with the original composer and lyricist for 20 years, therefore I was around when they were writing all the music and so I was already intimately familiar with all the music. Also, I was so jealous when they were working on the play, the second I heard they wanted someone to direct a new film version I was immediately up for it. Then when I eventually got to do the movie I was like this Tasmanian Devil – I was insane and everything happened so quickly, it was just crazy.
MP: Given your passion and commitment to this project, how come you didn't have a hand in the original stage production, after all you were intimate with the guys who devised it?
AS: You know I always wanted to be involved with the stage production but I'd already started directing movies, the timing was wrong and they just wouldn't have me. So when this movie actually came about they originally hired Jack O'Brien and Jerry Mitchell who did the play but because of a scheduling conflict they became unavailable. So then they met with around 30 big directors and my thoughts were none of these people have any dance background plus experience making comedies about racism, or have the passion or the intimate relationship with the material, and I just think at a certain point the studio decided that the evidence was incontrovertible, like I was sort of uniquely qualified to make his movie on top of which I had the most passion. So it was a bit of an uproar when I got the job because I'd made so many critically maligned family comedies but the truth is I've never had a flop and say what you want about my movies but I've made people their money back. And so that was also a compelling thing in the hiring of me in that I was so qualified with my dance background, so up for it and kind of not much of a financial risk – as much as you can have on a movie that not may people would make – you know we just don't have musicals anymore.
MP: But things have been turning around on this front since the likes of Chicago made it big, haven't they?
AS: Yeah! I can see your point, I mean I know Sweeney Todd has been happening and Mama Mia has been happening more recently, so things are better than they were, but generally the genre is no longer contemporary. We actually got green lit when Rent and The Producers one month apart bombed, and I added almost $30 million to the budget; I think it was $45 and I said it needs to be $74 because they wanted to model it after Chicago. Then I was like Chicago is 25 women in a box, what on earth are you talking about – I mean that movie is shot on a dark stage – I need a city that is populated with people and I said Oh! by the way, I want 150 dancers.
MP: How did you bring them round to your level of thinking?
AS: Eventually they gave them to me because they understood my logic, you know, I said to them how can I make it look as good as Chicago, even better if I don't have these things. Then the other issue is that we all took really big salary cuts - all of us. And that money is now on the screen, we built Baltimore in Toronto and costumed three thousand people in period clothing, so I would say that $74 is pretty low for a movie of this scale, especially with this cast.
MP: The whole movie espouses the fight against racial intolerance and in fact is firmly against the exclusion of all minorities, how far do you think we have progressed since this time in becoming an all inclusive society in this country?
AS: Today I think it's certainly emblematic of the gay struggle for equal rights, unfortunately for all the progress we've made, there are still some horrible things happening in our country. There's this thing between Michael Richards and this radio talk show host Don Hymas who made some horrible racial slurs on the radio recently and was fired. I mean the last song of the movie is called "We've come so far that we've got so far to go" and that essentially is the problem. If you look at what is happening in American television right now one of the greatest shows in history by everyone's acknowledgement was "All in the Family", this movie sitcom was charged with a lot of really controversial material. But no one could ever put that show on T.V today, how we've gone backwards without communication is really shocking, so I think in many ways we've progressed but in others we just haven't, and I don't think there's any down side to acknowledging that and reminding people that what supposedly makes our country "one great melting pot", quote on quote, which is what we claim to be, means accepting everybody in to this country we're so proud of if we're to be a truly multi-cultural society. It's kind of a paradox; we're still having problems bringing Mexicans in, you know they want our borders closed – that's against everything our country was founded on being, it's crazy.
MP: And this particular interpretation, how do you think it deals with all of this?
AS: I believe this movie tackles these issues with courage, conviction and humor – it's an important lesson that's never too late for any of us to learn. I mean the word minority is an all embracing theme in this movie – we only have to look at Edna who in her obesity and reclusiveness is an individual living on the fringes of mainstream society – even Wilbur with his crazy gags and kitsch joke shop is skirting the norm.
MP: Young Nikki Blonsky is a real find, it's as if the part of Tracy was just tailor-made for her. Can I ask how you came across this unknown ingénue – I guess her newcomer status added to the character's own fresh-faced girl from nowhere makes good appeal?
AS: Nikki Blonsky was one of 1,100 girls who auditioned and in the middle of that process the casting directors received a tape that was supposed to come to them but got mis-directed and went to New Line. A nosy assistant opened the wrong mail, watched the tape and he thought Nikki was kind of good and so he sent it to our casting directors who also agreed she was worth seeing. Anyhow, there was an open casting call in New York, which she had read about on the Hairspray website and I wound up watching her audition on-line while I was doing location scouting and it was like a halo had blossomed on my computer screen. I thought wow! she's good and then for the next week I kept going back to her while I was viewing dozens and dozens of girls. Then I called everybody up right in the middle of the process and said I know I'm not allowed to say this yet, but I have a feeling that it's gonna be this girl even though she's never had a professional credit and works in an ice cream parlour.
MP: What is it about Nikki that made you instantly see Tracy?
AS: I just loved her right from the word go, you know she just loves her body just like Tracy does, she actually is Tracy Turnblad. I look at it this way, I cast this 17 year old, heavy, beautiful girl from a lower middle class family who lives to sing and dance, to play this 17 year old, heavy girl from a lower middle class family who loves to sing and dance. I had no qualms in casting her because a lot of the girls I saw who were heavy you could feel like they were trying to act that they didn't care, in fact they were more like Ednas. They were trying but you sensed they were still playing at it. Nikki is totally at ease, completely natural in the role, and when the producers called me one day and said what if we never find her, I simply wrote back Nikki Blonsky.
MP: Thanks for all your insights, I'm sure Hairspray has all the right ingredients to make it to the top of this summer's hottest movies to view list, but now on to my final question – what can we expect to see coming out of the Adam Shankman movie house next?
AS: Well, you'll be glad to know that I'm going back to the old ball game – a thoroughly goofy, ca
MP: comedy. It's a big Adam Sandler Christmas comedy, I can't tell you too much about it but it's kind of a mash up between Liar, Liar and Princess Bride. So there's a contemporary element and then there's this huge mythological element. It's gonna be huge fun and I'm sure will make families very happy next Christmas.
Your Daily Blend of Entertainment News
Thank you for signing up to CinemaBlend. You will receive a verification email shortly.
There was a problem. Please refresh the page and try again.