Isla Fisher To Act Crazy In Female Version Of The Hangover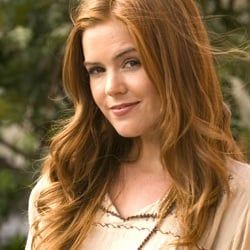 When the twin videos "I'm Fucking Matt Damon" and "I'm Fucking Ben Affleck" first went viral after their debuts on the Jimmy Kimmel show, their director Wayne McClammy started cashing in, picking up Hollywood directing gigs that sounded promising, but two years later have gone nowhere. Now, finally, McClammy's time has come-- THR reports that he's in negotiations to direct the Universal comedy Desperados, which is scheduled to go into production by the end of this year.
Isla Fisher may potentially star in what's being described as a female version of The Hangover, but actually sounds like just another spin on the classic genre of women going to ridiculous lengths to get men to like them. Fisher's character sends an angry e-mail to guy after she sleeps with him and he goes silent, only to learn that he's laid up unconscious in a Mexican hospital. Instead of doing the logical thing and assuming he won't even notice the e-mail after his medical ordeal, she gathers up some girlfriends and races across the border to try and get to the e-mail before he can. No, I also have no idea why they think it will be any easier to hack into his e-mail account when physically near the guy.
Misgivings about this concept aside, I like Fisher a whole lot, and have been waiting patiently for her true breakout as a comedy star (Confessions of a Shopaholic totally does not count). McClammy made two hilarious gems with his Kimmel viral videos, and if he can just bring some of that mojo to this movie, he and Fisher may both start getting the attention they deserve.
Your Daily Blend of Entertainment News
Staff Writer at CinemaBlend