J.J. Abrams Wants To Let The Great World Spin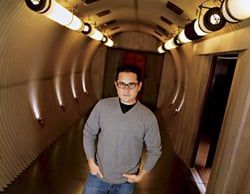 Author Colum McCann is having a great year. His novel, Let the Great World Spin was released to rave reviews. Earlier this year, it was awarded the National Book Award, one of the most prized book awards in literature. And now, one of the most powerful directors in Hollywood wants to adapt it. Who says an English degree is worthless?
According to THR, J.J. Abrams is currently working on securing the rights to McCann's Let the Great World Spin for his production company Bad Robot. The book, centered around a group of New Yorkers and Philippe Petit's illegal tight-rope walk between the World Trade Center towers (also the focus of Man On Wire), will be adapted by McCann and produced by Abrams.
As well all know, Abrams did a great job of producing a movie about a group of New Yorkers once before, but this one obviously has a lot more depth to it (that is, we won't have to hear from whiney hipsters this time around). It's not clear who Abrams will choose to the direct the adaptation, but this dude knows what he's doing, and with material like McCann's to work with, quality shouldn't be an issue.
Your Daily Blend of Entertainment News