Jackie Earle Haley To Square Off Against Honest Abe In Spielberg's Lincoln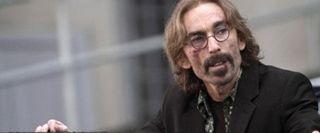 Four score and a few hours ago, it was announced that Steven Spielberg's Lincoln has added another actor to its roster. Deadlinebroke the news that Jackie Earle Haley has been cast in the biopic of one of America's greatest presidents. Haley will play Alexander Stephens, the vice president of the Confederate States of America and a major opponent of Lincoln's anti-slavery legislation. Spoiler alert: Lincoln wins that battle.
This is shaping up to be a phenomenal cast. Jackie Earle Haley joins similarly tri-named stars like Daniel Day-Lewis, Joseph Gordon-Levitt, Tommy Lee Jones, and Tim Blake Nelson as well as Sally Field, James Spader, and David Strathairn. It's dizzying to try and comprehend the magnitude of collective talent in this film. Haley has proven himself to be a stellar actor in both crowd-pleasing genre fare like Watchmen as well as in heavier dramatic roles like his Oscar-nominated turn in 2007's Little Children. He is a fantastic addition to this cast.
It would be very easy to play Stephens as a typical movie villain given the historical context and the ugliness of slavery, but that historical context must be respected in order for this film to feel authentic. Therefore, Stephens must believe that what he's doing is right because he legitimately believes the institution of slavery is just. The most interesting villains after all are the ones who believe themselves to be the hero. Haley brought a measure of this complexity to Watchmen,'s Rorschach who was a violent vigilante but believed he was the only hope for his corrupt city.
Lincoln will be shooting in the fall and is aiming for a 2012 release date after the presidential election; presumably to free them from the accusation of having any political agenda.
Your Daily Blend of Entertainment News
Thank you for signing up to CinemaBlend. You will receive a verification email shortly.
There was a problem. Please refresh the page and try again.