James Marsden Is Charles Manson In The Dead Circus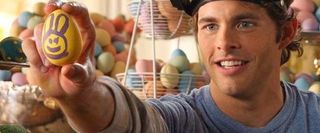 This weekend you can see James Marsden in Hop. Please don't. The guy's insanely talented and deserves a lot better to be stuck in one of the worst reviewed movies of the year holding Easter eggs for a CGI bunny. Maybe this will be a step back in the right direction, because next he's playing Charles Manson.
You remember Charlie Manson, head of the Manson family, sent pretty girls out to murder people for him in between orgies. There's a movie called The Dead Circus on the way from Palermo Pictures. It's about the mysterious death of singer Bobby Fuller, whom you may know from the song "I Fought the Law". He was found dead in an automobile outside his apartment in 1966, and there's long been speculation, but no evidence, that Manson might have had something to do with it.
Along with Marsden, Dexter's Michael C. Hall and Oscar winner Melissa Leo are attached to star in the film. According to Deadline Hall will play Fuller's corrupt, handicapped manager while Leo will play a Manson family matriarch who comes out of hiding years later to offer clues as to the nature of Fuller's death. It sounds like the movie's being put together from the perspective of a writer trying to uncover the truth behind the murders. Zodiac anyone?
Your Daily Blend of Entertainment News
Thank you for signing up to CinemaBlend. You will receive a verification email shortly.
There was a problem. Please refresh the page and try again.