James Marsden Forced To Become The Easter Bunny's Butler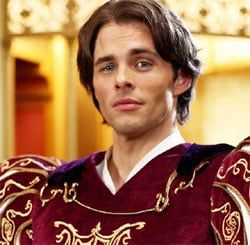 James Marsden has signed on to star in comedy called I Hop, which is not at all about the wacky hijinks of International House of Pancakes employees serving drunks syrup after 3am. Instead THR says I Hop is a live action/CGI hybrid in which Russell Brand voices an Easter Bunny accidentally injured by an out of work slacker, played by Marsden. Marsden is forced to take him in until he recovers, which I guess makes this the cinematic equivalent of hitting a guy with your car and being ordered by a judge to become his butler. Only in this case the guy is an Easter Bunny and you used to be Cyclops.
It should come as no surprise that it's being directed by Tim Hill, who has been responsible for most of the worst live-action/CGI hybrids you've had to sit through in the last decade. Even Bill Murray regrets Garfield and given time I feel confident Jason Lee will regret Alvin and the Chipmunks too. The future's not rosy for James Marsden who, having proven himself as a pretty capable actor, deserves better. Under other circumstances, I'd be excited to see him do more comedy. He killed in Enchanted as a deluded prince.
Now maybe I Hop doesn't suck if they turn it into some sort of Family Guy-like R-rated comedy. They've got Russell Brand, and, it seems like a waste of time to use his voice without letting him say something filthy. But it's Tim Hill and mostly he makes shrill movies for kids. Don't expect anything funny.
Your Daily Blend of Entertainment News