James Marsden And Patrick Wilson Will Star In Murder Thriller Loft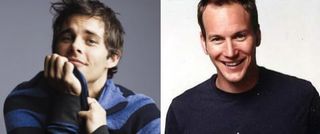 The 2008 Belgian film Loft has a setup that could easily turn into a sex farce-- five married friends go in together on a loft where they can bring their mistresses. Sadly, things turn dark pretty quickly, when one woman shows up dead and all the guys start suspecting each other of murder. Now we'll get to see two American actors put into the sticky situation; according to Variety Patrick Wilson and James Marsden are in talks to star in a remake of the thriller, with the original's director Erik Van Looy back to direct from Wesley Strick's new script.
Neither Wilson or Marsden are strangers to dark indie projects-- Wilson has James Wan's Insidious coming out this spring, while Marsden has the remake of the violent drama Straw Dogs coming this year too. I tend to like them both better when they're being funny, but given that Wilson just wrapped Jason Reitman's new comedy Young Adult and Marsden will be pulling a lot of silly faces in the children's comedy Hop (see the new trailer for plenty of evidence there), you can't blame them for veering toward something more sinister. Loft is set to start shooting later this spring; presumably three more actors will be cast to fill out the quintet of men who can't quite trust each other.
Staff Writer at CinemaBlend
Your Daily Blend of Entertainment News
Thank you for signing up to CinemaBlend. You will receive a verification email shortly.
There was a problem. Please refresh the page and try again.