James McAvoy And Saoirse Ronan May Also Join Joe Wright's Anna Karenina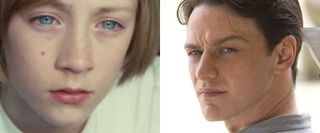 Joe Wright is already reuniting with one of his Atonement stars for his planned Anna Karenina film, which will star Keira Knightley, and now he may be bringing the other two on board as well. According to an article by Anne Thompson at IndieWire about British production company Working Title, Anna Karenina has been greenlit by Universal, and Wright is eyeing both James McAvoy and Saoirse Ronan for roles in the sprawling film. Jude Law and Aaron Johnson are already on board.
Both Ronan and McAvoy are keeping very busy schedules these days, though now that Ronan won't be playing the Snow White part she was heavily rumored for (it went to Lily Collins) she may have a free spot on her schedule. She and Wright are spending plenty of time together as they make the rounds to promote their new film Hanna, so it makes sense that they'd have time to talk over whichever role he wants her to play in Anna Karenina. As for McAvoy, his future will be determined by how X-Men: First Class performs this summer--he may have many years of playing Professor Xavier ahead of him. Beyond that, though, he can probably make a reunion with Wright work.
Though Hanna, a modern-day action thriller with strong fairy tale elements, is a bit of a departure from the polished period world of Atonement, Anna Karenina gets Wright back to what he established early as his wheelhouse. It's a classic story that's building a phenomenal cast-- there's nothing not to hotly anticipate here.
Your Daily Blend of Entertainment News
Staff Writer at CinemaBlend