Jamie Bell Joins Lars Von Trier's Real-Sex Drama Nymphomaniac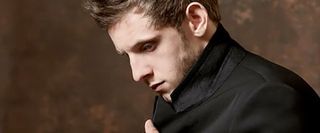 With films like Dogville and Antichrist, Lars von Trier has long established a solid reputation as a powerful but unsettling filmmaker. But for all the dark places his features go and all the horrific things they show, his movies are all built around incredible roles that lend themselves to powerhouse performances. So it's little wonder that no amount of controversy seems to scare off big stars from working with the outspoken and audacious auteur.
His next venture, a reportedly hard-core pornographic drama called Nymphomaniac has already collected a cast that includes recurring collaborators Charlotte Gainsbourg and Stellan Skarsgard, as well as von Trier newbie Shia LaBeouf. Now THR reveals Jamie Bell, best remembered as the titular dancer in Billy Elliot, has signed on along with Danish actress Connie Nielsen from the Starz series Boss. They join an international cast that includes Danes Nicolas Bro (Warhorse), Jesper Christensen (Melancholia) and Jens Albinus (Dancer in the Dark), Shanti Roney (Together) of Sweden, and German actor Severin von Hoensbroech (A Dangerous Method). Early reports likewise linked Nicole Kidman, who fronted Dogville, and Willem Dafoe, who co-starred in Antichrist, to the drama, but Nymphomaniac producers have yet to confirm this pair will be involved.
Nymphomaniac will be an ambitious two-part film which is expected to have two versions released, one that will feature hard-core—and possibly real—onscreen sex, the other being a more soft-core version. Gainsbourg will front the feature as Joe, a self-proclaimed nymphomaniac. After being found beaten in an alley by Skarsgard's character Seligman, she's taken to his home and nursed back to health as she divulges her lifetime's worth of carnal exploits. At this juncture, there's no word on what roles the rest will play.
Nymphomaniac will kick off its 11-week long production schedule tomorrow in Germany. The film is expected to hit theaters in 2013.
Staff writer at CinemaBlend.
Your Daily Blend of Entertainment News
Thank you for signing up to CinemaBlend. You will receive a verification email shortly.
There was a problem. Please refresh the page and try again.