Jan De Bont And Zhang Ziyi Team Up For Live-Action Mulan Film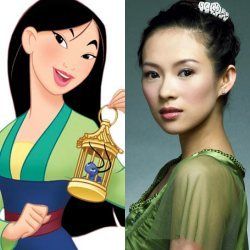 Like Belle and Ariel and even Cinderella before her, Disney's Chinese warrior princess Mulan wasn't their creation, but a take on a mythological heroine who first emerged in a 6th century poem. And while Disney might not like it, the character is up for grabs from other directors-- and Jan de Bont, of all people, is going to be the next one to tackle her. According to THR de Bont will be teaming up with Zhang Ziyi for an independent film, titled simply Mulan.
Believe it or not, another Mulan movie was made just last year, starring Chinese actress Zhao Wei, though given Zhang Ziyi's profile over here it seems a lot likely we'll be seeing this Mulan in American theaters. The movie could serve as something of a comeback for both de Bont and Zhang--the director hasn't made a film since 2003's Tomb Raider sequel, while Zhang has been acting consistently in China but hasn't acted in a film with a major presence in American since 2005's Memoirs of a Geisha. Though Mulan is being independently financed, if John Woo's massive Chinese history epic Red Cliff can get stateside distribution, I'd assume the same for this one. Disney is just going to have to suck it up and deal.
Your Daily Blend of Entertainment News
Staff Writer at CinemaBlend