Janis Joplin Played By Zooey Deschanel!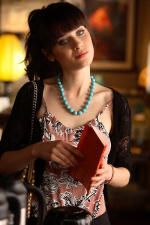 What's the deal with Janis Joplin? Maybe I'm a rock idiot, but I've just never gotten what's so great about her. Janis wasn't a strong singer. Still, though I may not dig her music, a movie about the fem rock legend has tremendous potential. Sex and drugs in rock n' roll with a female twist? Count me in.
A few days ago our friend Richard over at Filmstalker gathered together some rumors that indicated Zooey Deschanel might be on the verge of playing her in a film about her life. Now Production Weekly has confirmed that in a stroke of casting genius, the underappreciated Zooey has indeed been cast to play Janis. It's a little indie film, being directed by Wayne's World turned obscure indie helmer Penelope Spheeris. They expect to start shooting this November in Philadelphia. The movie's being called Gospel According to Janis, and unlike a lot of boring biopics it'll skip right over the stuff no one cares about and begin with her move to California to make it big and end with her death at the age of 27 after eight years of constant excess.
Maybe we haven't seen this kind of portrayal from Zooey before, but I think she's perfect. Best known for roles in family friendly films like Elf and Hitchhiker's Guide, the girl also has a wild streak. She's got a knack for kooky, strange, and sometimes disturbed personalities. Infamous, drug addled rockstaress? Should be no problem. After stealing scenes in other actor's movies for so long, it's about time she got a decent leading role.
Your Daily Blend of Entertainment News
Thank you for signing up to CinemaBlend. You will receive a verification email shortly.
There was a problem. Please refresh the page and try again.