Jessica Biel Will Play Mob Girl For Lone Scherfig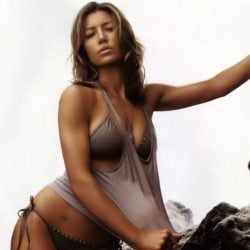 Though I understand that Jessica Biel is a very famous person who gets lots of movie roles, and that she stars in movies like Easy Virtue to prove she's more than just a pretty face, I'm still not entirely sure where acting talent comes into the mix. But Biel, god love her, is dead set on moving beyond the Valentine's Day and I Now Pronounce You Chuck and Larry roles, and is now starting up as a producer to make it happen.
Pajiba is reporting that Biel will star in and produce Mob Girl, a true story about Arlyne Brickman, mistress to several mobsters who, after enduring a series of rapes, turned informant and helped put some of the scumbags behind bars. The project will be based on Teresa Carpenter's book Mob Girl, and the hunt is on for screenwriters, but a director is already on board: An Education's Lone Scherfig is apparently adding it to her schedule.
Biel is doubtlessly thinking of the Oscar-nominated performance that Scherfig got out of Carey Mulligan, so if the campaign to be a "real actress" is going to pay off, now might just be the time. Scherfig is already planning to direct Anne Hathaway in the romantic comedy One Day, so it might be a while before we see Mob Girl makes it to the screen, but Biel fans will doubtlessly be holding their breath anyway.
Staff Writer at CinemaBlend
Your Daily Blend of Entertainment News
Thank you for signing up to CinemaBlend. You will receive a verification email shortly.
There was a problem. Please refresh the page and try again.