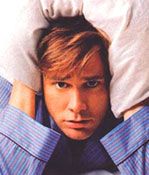 Jim Carrey hasn't had much luck with movies lately. The Number 23 was less than a success, and all of the three movies he'd planned to do next ended up being shelved or abandoned. After a little time hanging out on his couch he's found a new project, but unfortunately he's playing one of Hollywood's most overused stereotypes: a struggling writer.
The movie is Me Time for 20th Century Fox, and Variety says Jim is in talks to be a house husband writing a book about his great-great-grandmother, who was unable to afford any slaves. So the diary he's basing his book on tells of her raising a family and plowing fields herself. For some reason this shakes his confidence, and things only get worse when his pregnant wife goes on bed rest and he's force to take care of the house and the kids on his own. I'm not sure why that should affect him. Plow envy?
It also looks like one of his two dead projects from last year may be coming back to life. Variety says Ripley's Believe it or Not has been brought back to life and Jim is still attached with Tim Burton planning to direct, presumably after Sweeney Todd.
Your Daily Blend of Entertainment News