Jodie Foster To Direct Drama Money Monster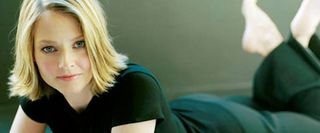 Jodie Foster's last effort as an actress-director, The Beaver, was sadly overshadowed by the very volatile and painfully public meltdown of the film's star, Mel Gibson. Though the drama about a man and his puppet did fairly well with critics, the $21 million production tanked hard at the box office, pulling in only $970,000 domestically, and was roundly ignored by all major award organizations. Thankfully, it seems none of this has derailed Foster's future as a filmmaker as she's been attached to helm a new indie drama called Money Monster.
Penned by Grimm's creator and staff writer Jim Kouf and Alan DiFore, Money Monster follows Lee Gates, a TV personality who is considered the money guru of Wall Street…thanks to his shady utilizing of insider trading tips. On television he spouts out advice to his viewers with no sense of responsibility or concern of consequences, but that ends abruptly when Kyle, a dedicated fan whose lost his family's life savings because of a bad tip from Lee, takes him hostage on air. With his life on the line, Lee's show gets the best ratings it has ever had as more and more Americans tune in to see exactly how much his life is worth.
With a premise that seems sharply critical of the contemporary zeitgeist, Money Monster could play out like a Network for the 21st century. As such, this could be a major game changer for Foster's career as a director. So far, from Little Man Tate to Home For the Holidays and The Beaver, she's focused solely on solid family dramas, but this film would offer an opportunity to show what she can do, and possibly at long last show the Academy she's so much more than a two-time Oscar-winning actress! Beyond that, I am eager to see what the brilliant and fearless Foster has to say about contemporary television news and its responsibility to its viewership.
Daniel Dubieki, who produced the 2010 Academy Awards Best Picture nominee Up In The Air, will produce the film, and Varietyreports casting on the project will begin immediately as production is slated to begin early next year.
Staff writer at CinemaBlend.
Your Daily Blend of Entertainment News
Thank you for signing up to CinemaBlend. You will receive a verification email shortly.
There was a problem. Please refresh the page and try again.