The John Gotti Biopic With John Travolta Is Actually Happening With An Unexpected Director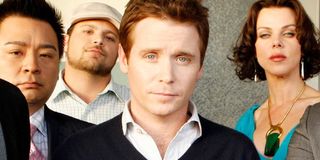 It's been a long time since we heard anything about the biopic centering on famous mobster John Gotti. John Travolta has been on board to play the role since 2011 but it's been over two years since we've heard a word about the film. It was like the idea had gone into witness protection. Now, the movie has come out of hiding to announce its new director: Kevin Connolly, as in, the one from Entourage, has signed to helm the film.
It's an... interesting choice to say the least, but according to Deadline it's the real deal. Connolly certainly wasn't on anybody's radar regarding the film, but he's also not an entirely unknown director. He has a fair amount of television work under his belt, including a couple episodes of Entourage and an ESPN hockey documentary entitled Big Shot. The film about the Teflon Don will certainly be his biggest directing project to date.
Part of what makes Connolly such a surprising choice is that previous directors involved in the film have included Nick Cassavetes and Barry Levinson. These are much bigger names with some history tackling some heavy subject matter. We would not normally put Entourage in that category. Still, Connolly seems ready to make the movie happen. He sent out this tweet when the announcement was made.
The odd choice of director is actually par for the course for the increasingly bizarre path the film has taken in its attempt to get made. Lindsay Lohan was once attached to play Gotti's wife, Victoria, before leaving the project, then coming back to play another role. Joe Pesci was also on board at one point to play Gotti's right hand man, Angelo Ruggiero, before he was recast in another role and offered a lot less money. He sued over it. As far as we know, neither of them are currently attached to the film, but at this point who the hell knows? Sir Anthony Hopkins was also on board in an unspecified role at one point. Your guess is as good as ours regarding his status.
The movies is based on the book by John Gotti Jr., Gotti: In the Shadow of My Father which may, or may not also be the title of the film. We'll wait and see if this announcement actually gets the movie off the ground. Considering how much we like our mobster film in America, it's more than a little surprising that this true story about one of the biggest mob families in the world has been so difficult to put together.
If Connolly can actually get Gotti made, it will likely say a lot about his skills as a director - before the final product is even ever seen. Good luck "E." You may need it.
CinemaBlend's resident theme park junkie and amateur Disney historian. Armchair Imagineer. Epcot Stan. Future Club 33 Member.
Your Daily Blend of Entertainment News
Thank you for signing up to CinemaBlend. You will receive a verification email shortly.
There was a problem. Please refresh the page and try again.